Christmas, a few days off and a new year are coming! Are you a fan of our interactive infographics? We have good news: we have made a dynamic calendar where we compile them all.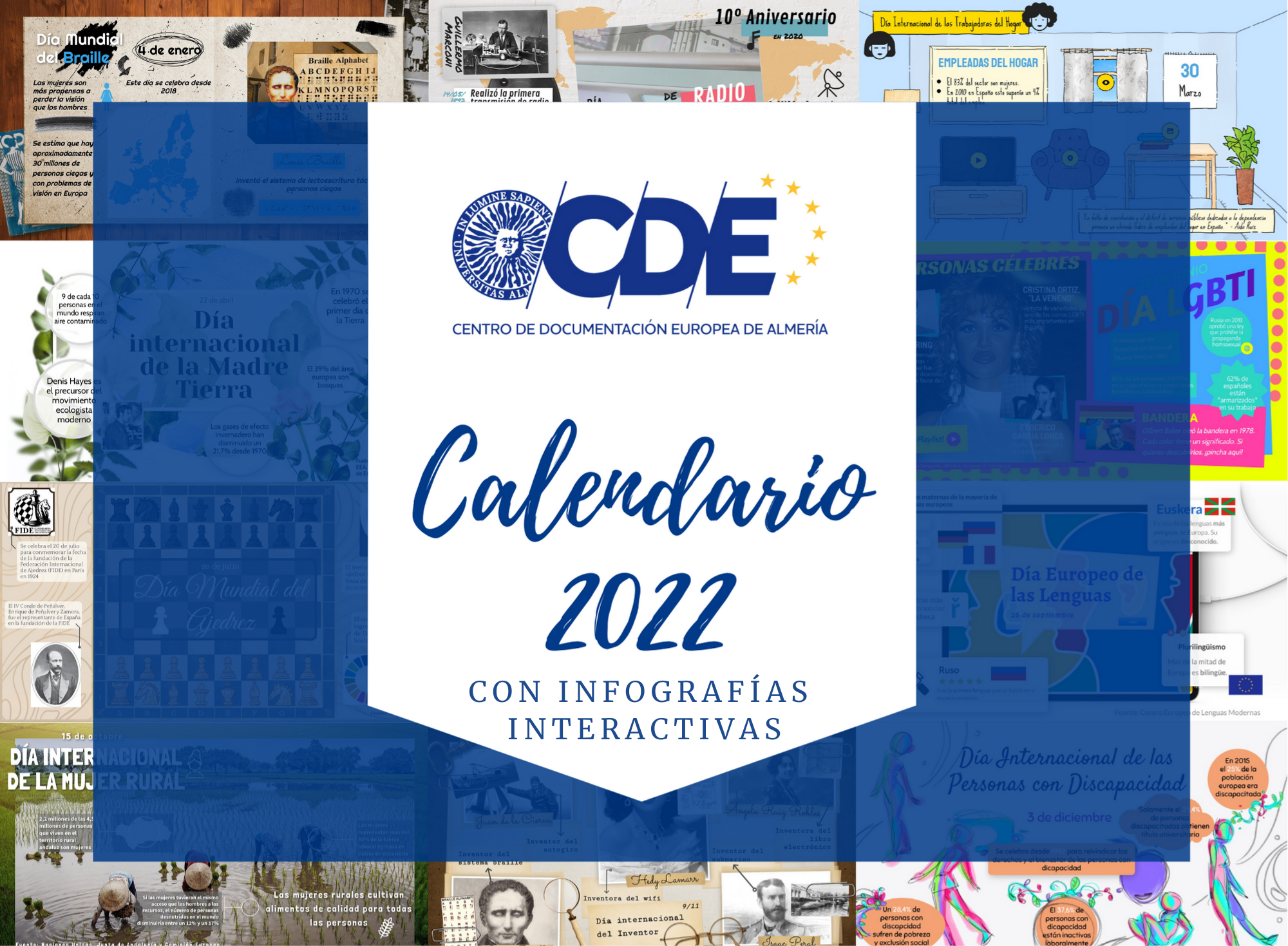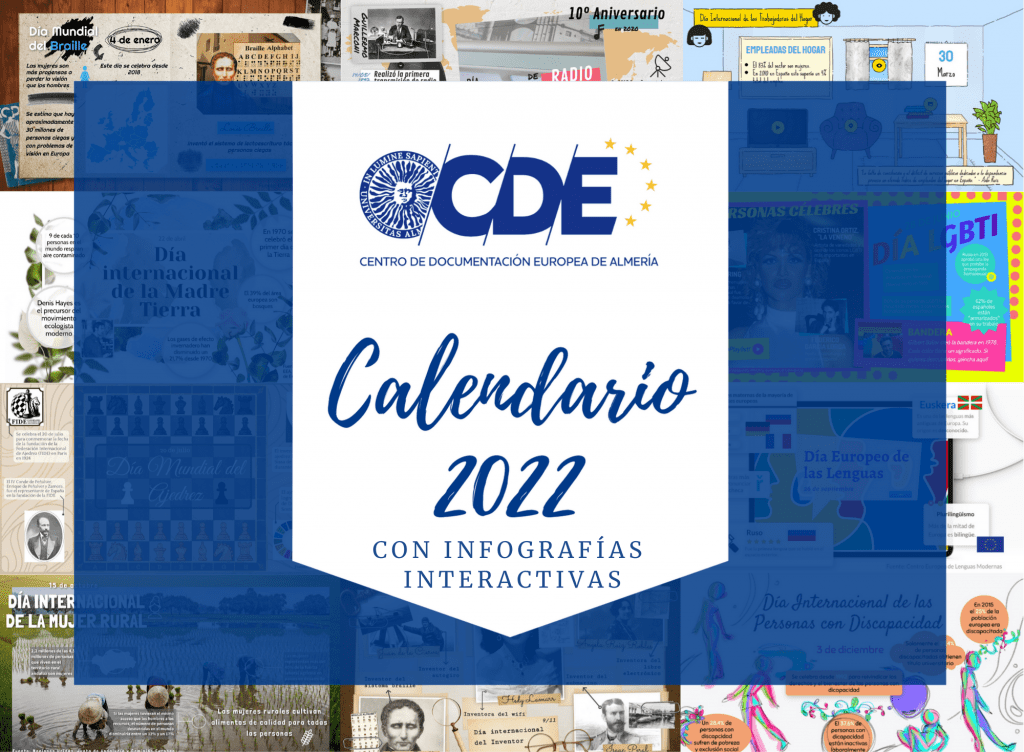 Each month has been dedicated to a specific day that celebrates or marks something in particular: Braille, the LGBTIQ+ community, radio, rural women, domestic workers, etc.
In addition to being able to consult the calendar and infographics online, we give you the possibility to download each month in pdf format individually to see it in higher quality and have access to the material on your own device. If you are interested in the complete calendar, at the end of this post you will find a link to the pdf document with all the months together.
We hope to accompany you in the year 2022 with this calendar.
---
January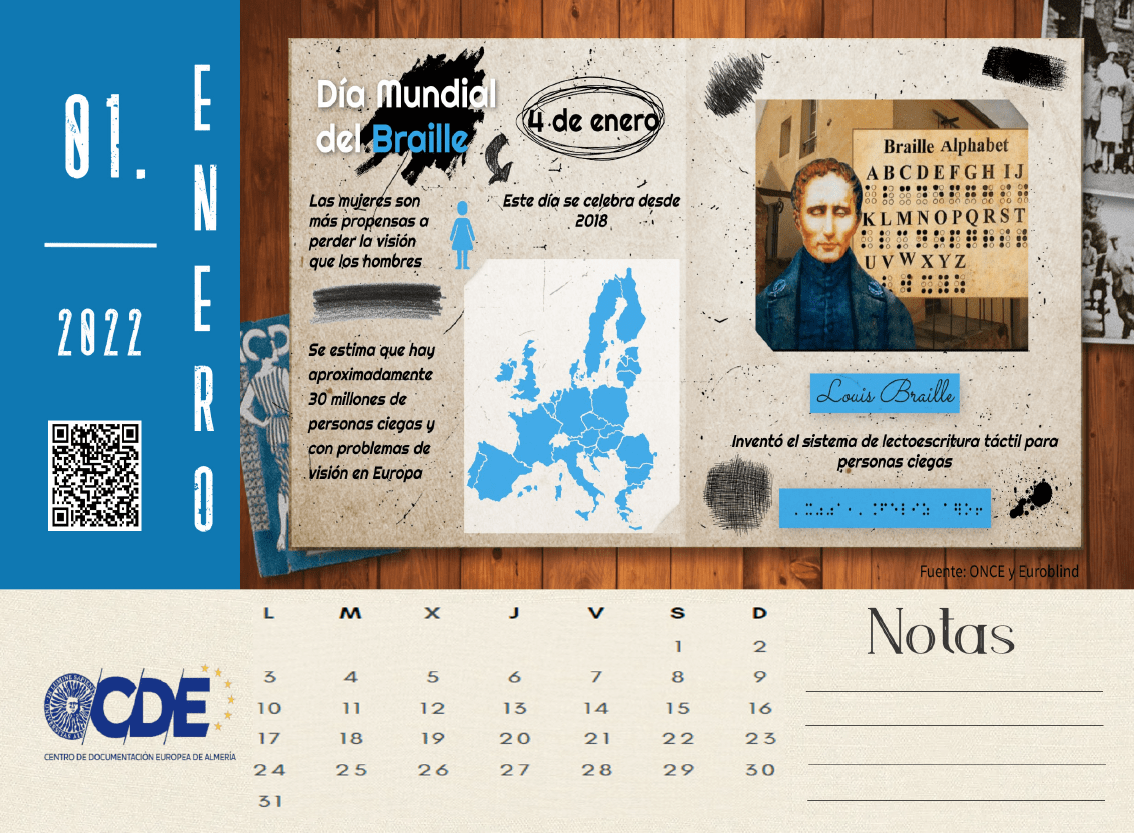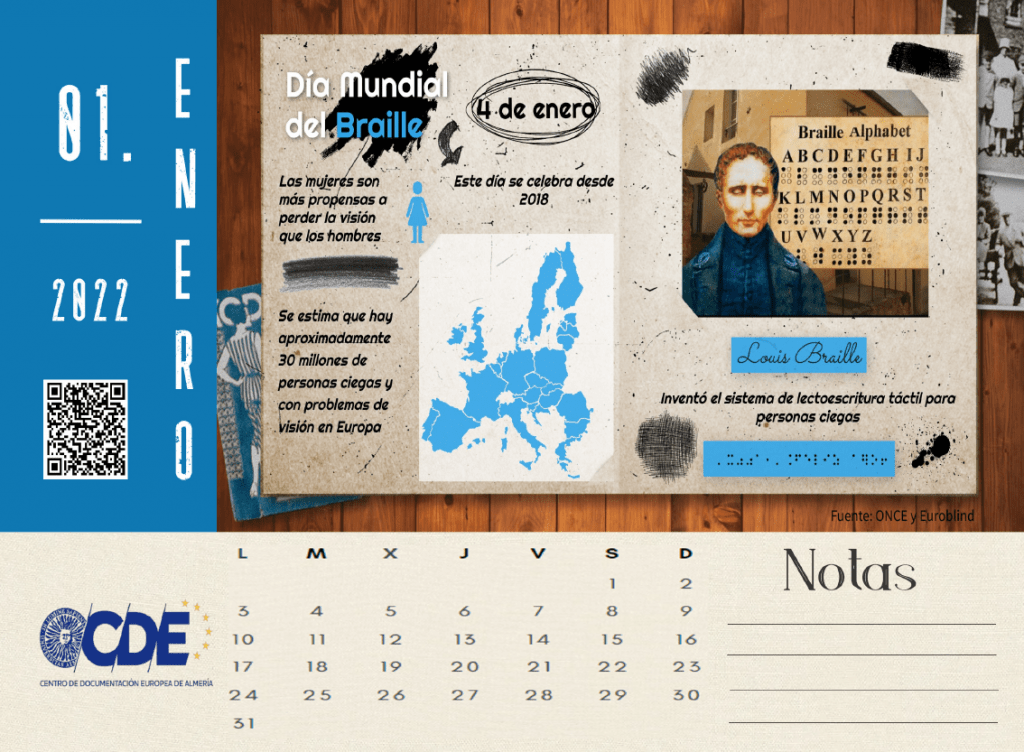 January 4 marks World Braille Day, which has been celebrated since as recently as 2018. Check out the infographic by making use of the QR code to see the information in a dynamic and accessible way about this day.
February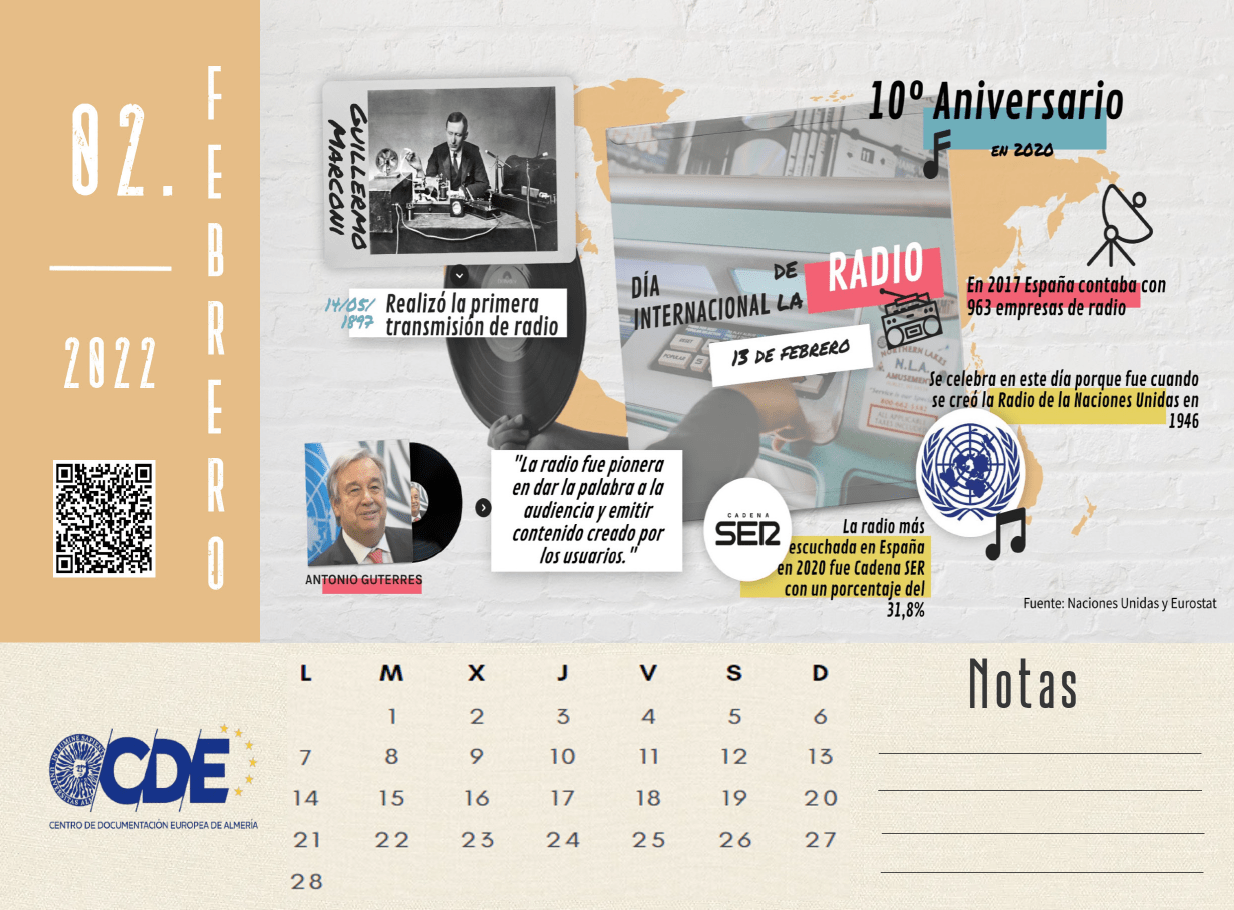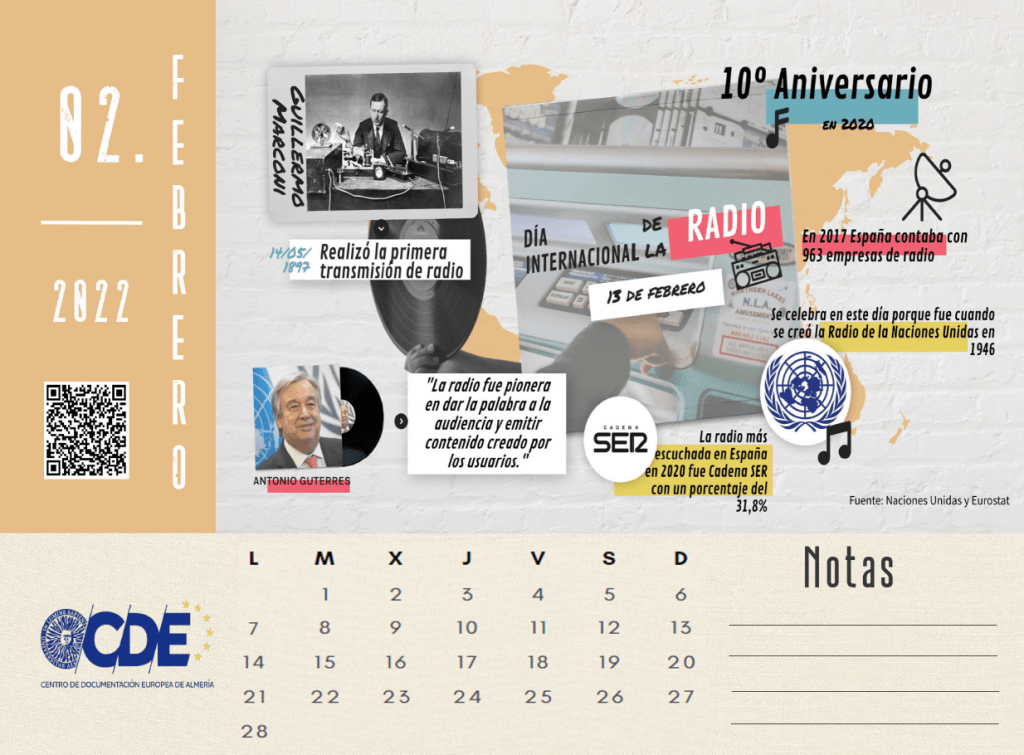 Do you listen to the radio on your way to work every morning or in the evening? Did you used to listen to the radio more often a few years ago? February 13 is International Radio Day. We have been celebrating this day for eleven years. To find out when the first radio broadcast took place feel free to check out our interactive infographic via the QR code.
March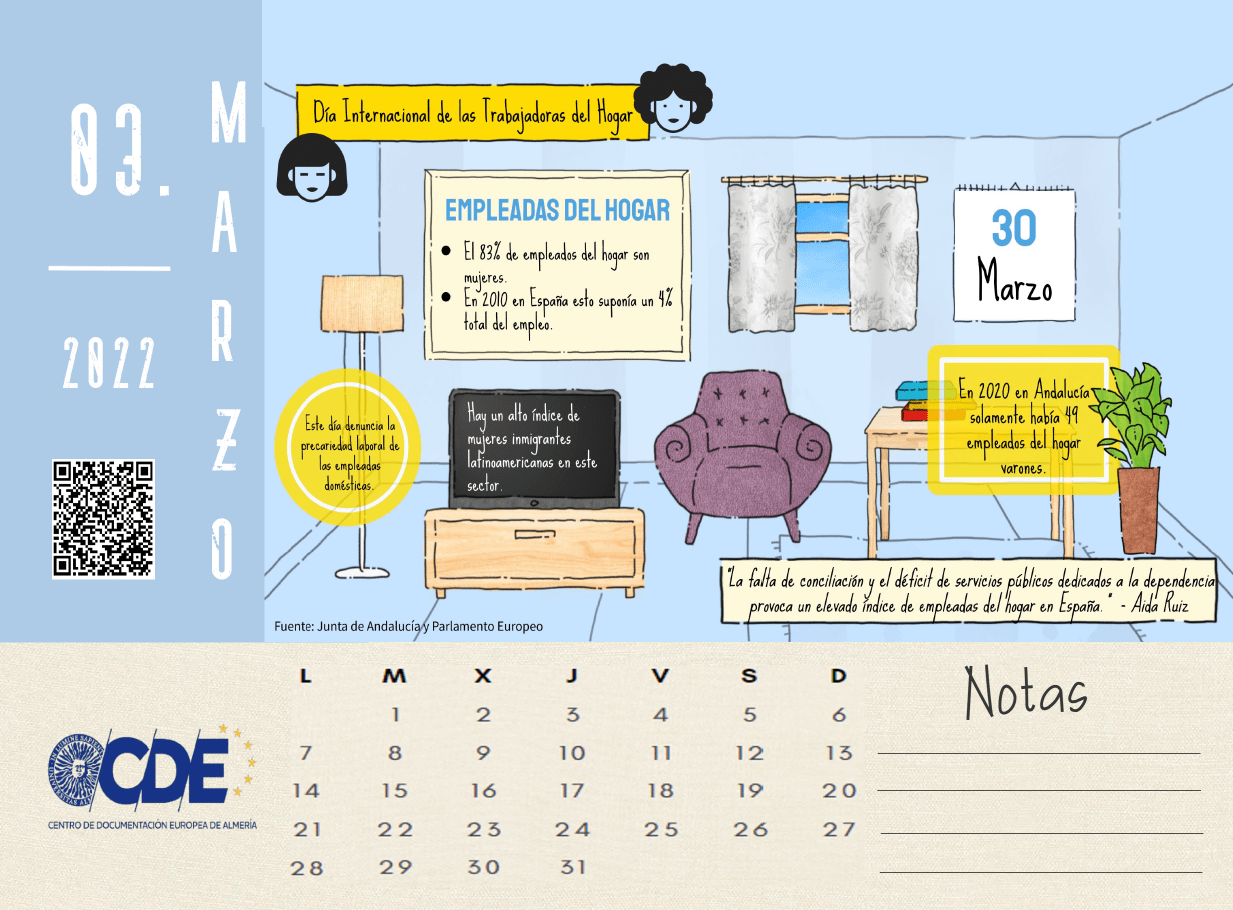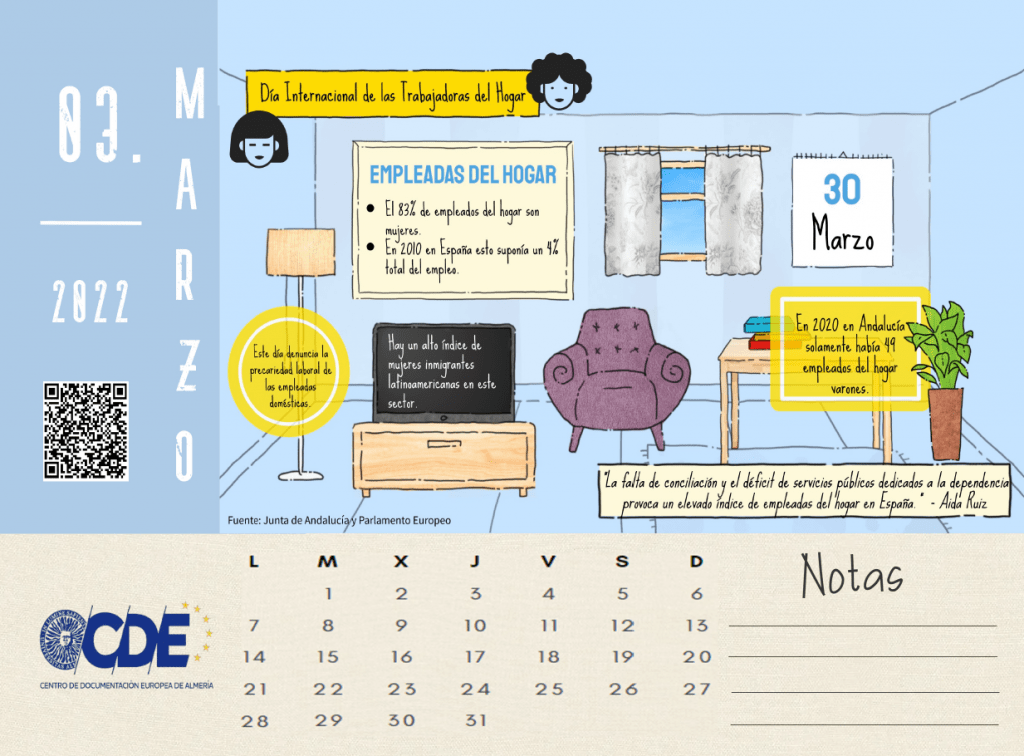 March 30 is International Domestic Workers' Day. 83% of the sector is made up of women and in 2010 in Spain this sector accounted for 4% of total employment. This day denounces the labor precariousness of domestic workers. If you want to know more, check out the interactive infographic through the QR code.
April
Are you concerned about the environment? April 22nd is International Mother Earth Day. Did you know that greenhouse gases have decreased by 21.7% since 1970? In addition, 39% of Europe's land area is forest! We have been celebrating this day for more than four decades, check all the info by scanning the QR code.
May
Europe Day is celebrated on May 9, this year we have chosen the Capitals of Culture and Youth as content for the infographic of the month. The first city to be named as European Youth Capital was Rotterdam, in 2020 France took its place. Also, Rijeka (Croatia) and Galway (Ireland) were both named European Capital of Culture. Check more information through the QR code.
June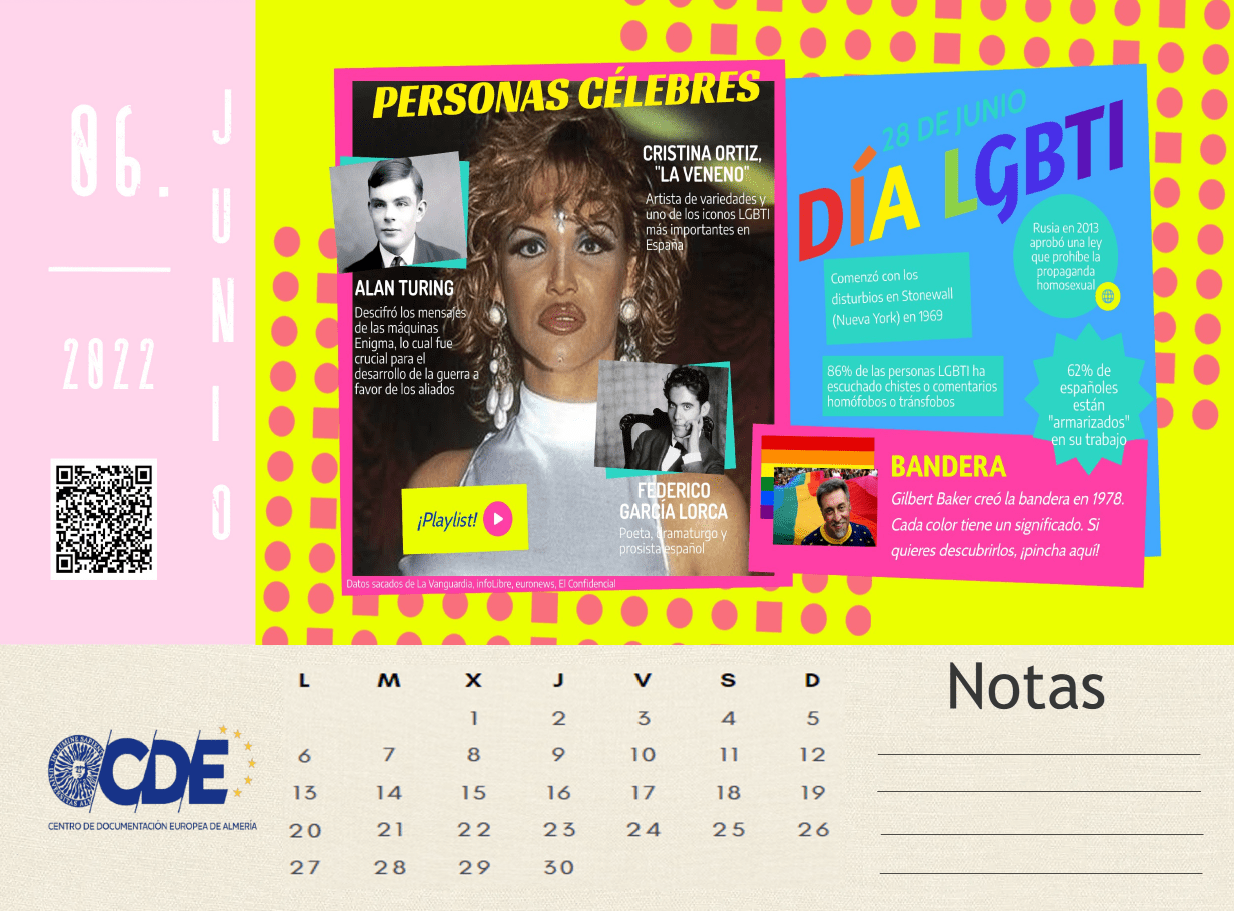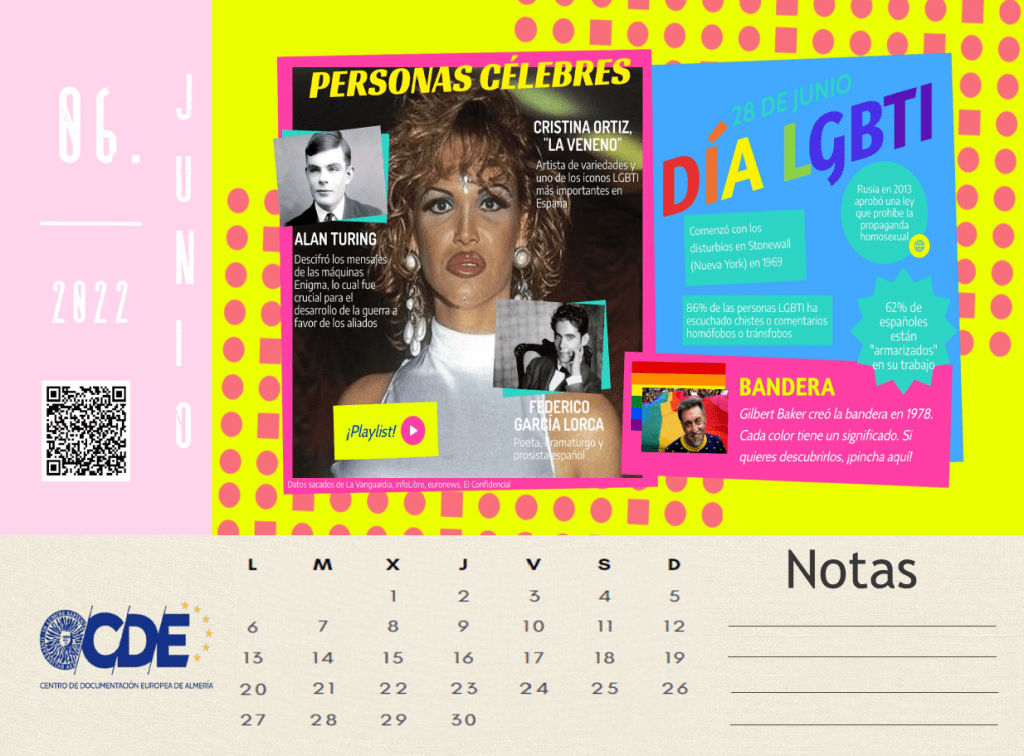 LGBTI Day is celebrated on June 28th. The origins of this day date back to 1969 with the Stonewall riots (New York) and the fight for the rights of the LGBTIQ+ community. However, and despite the fact that it has been more than four decades since then, there is still great stigma and repression towards different gender identities and sexual diversity. For example, did you know that Russia in 2013 banned "homosexual propaganda" by law? Check out all the information about this day by using the QR code that will take you to the full interactive infographic.
July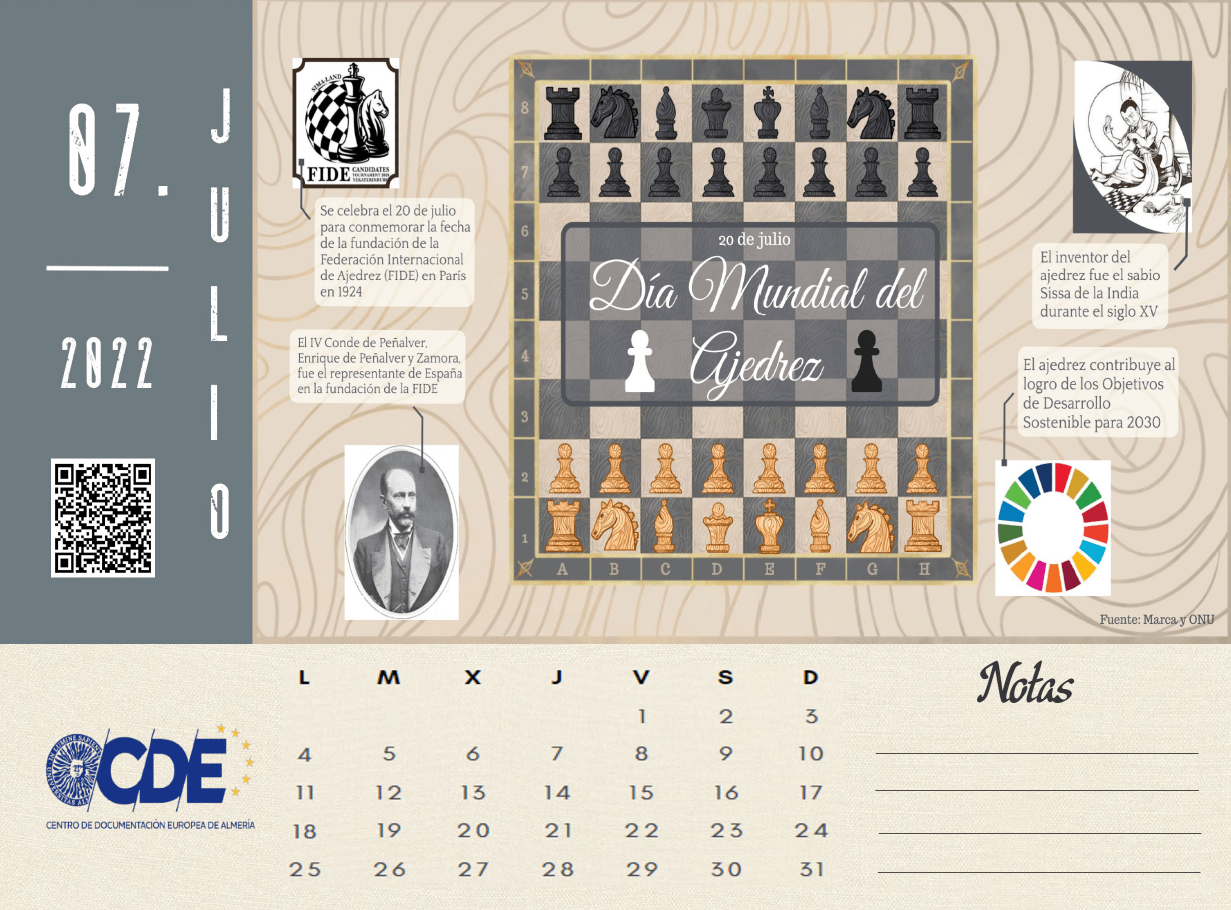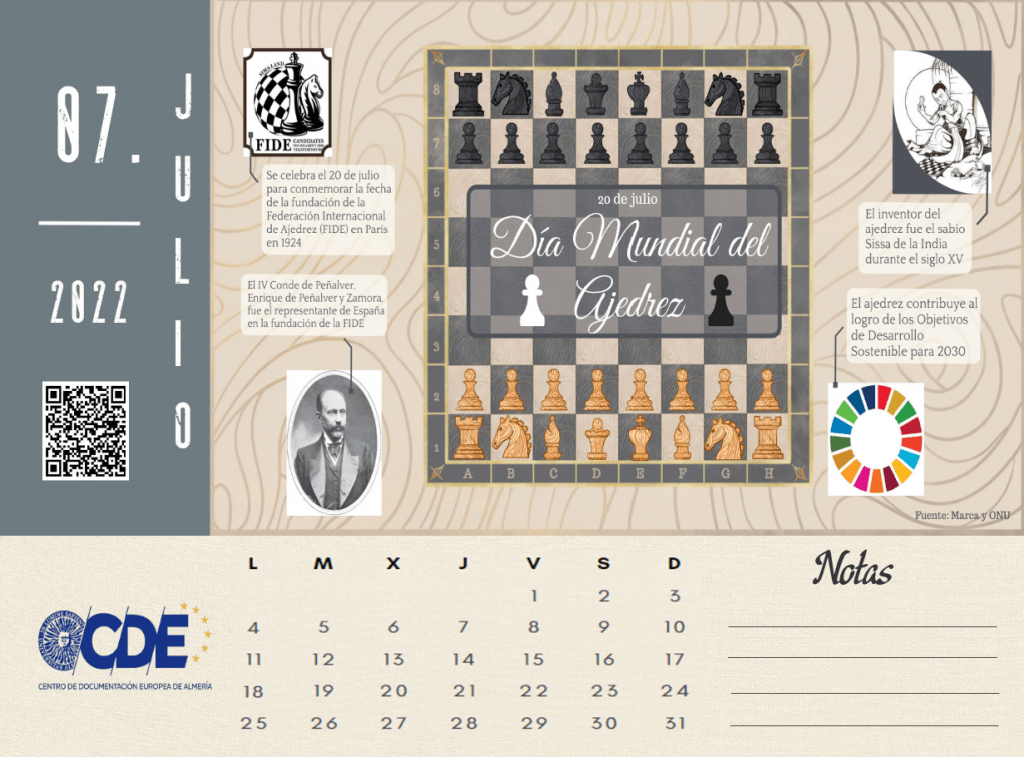 If you like chess, July 20 is your day. July 20th is celebrated as World Chess Day. We have highlighted that this day commemorates the date of the founding of the International Chess Federation (FIDE) in Paris in 1924. Did you know that chess contributes to the achievement of the Sustainable Development Goals for 2030? Check out more curiosities about this sport in our interactive infographic that you can access through the QR code.
August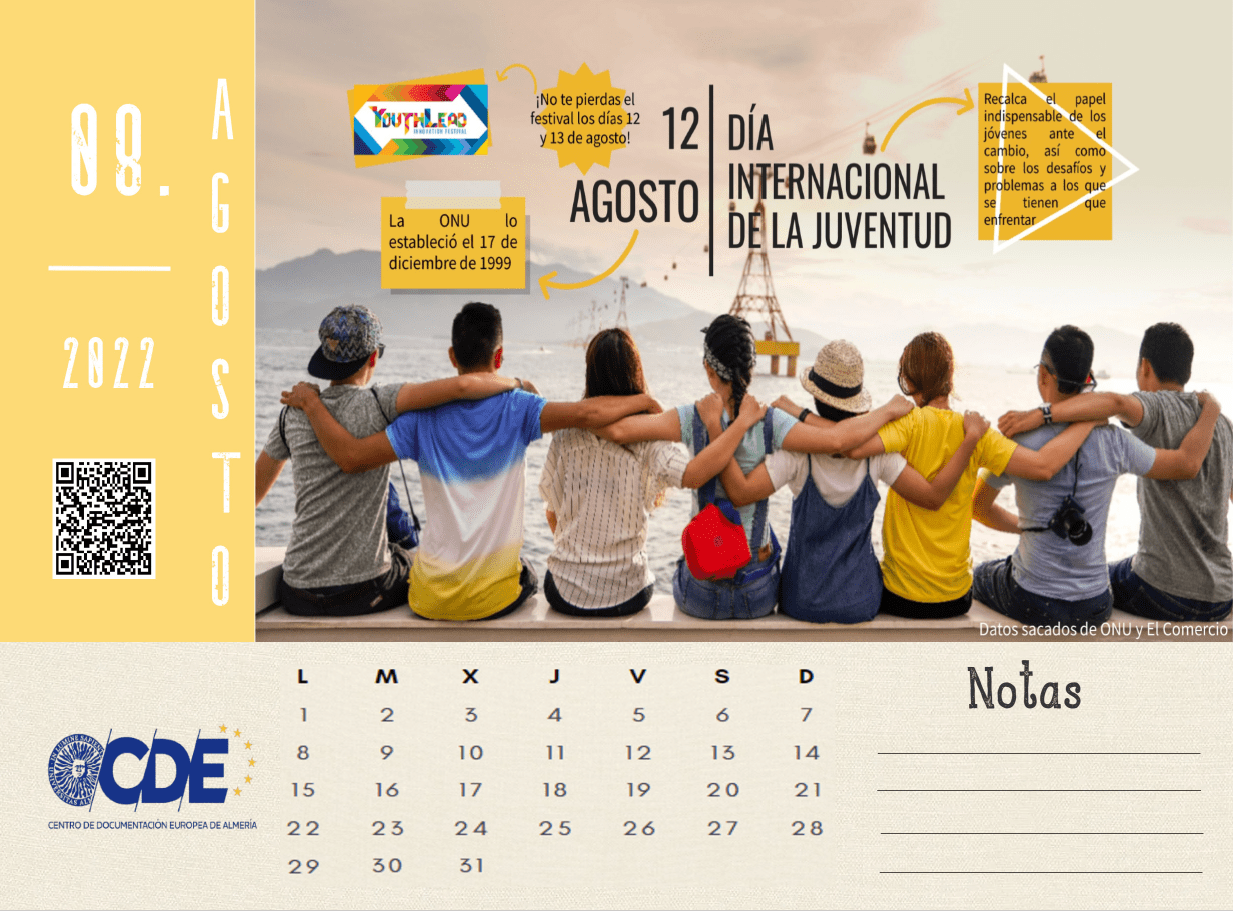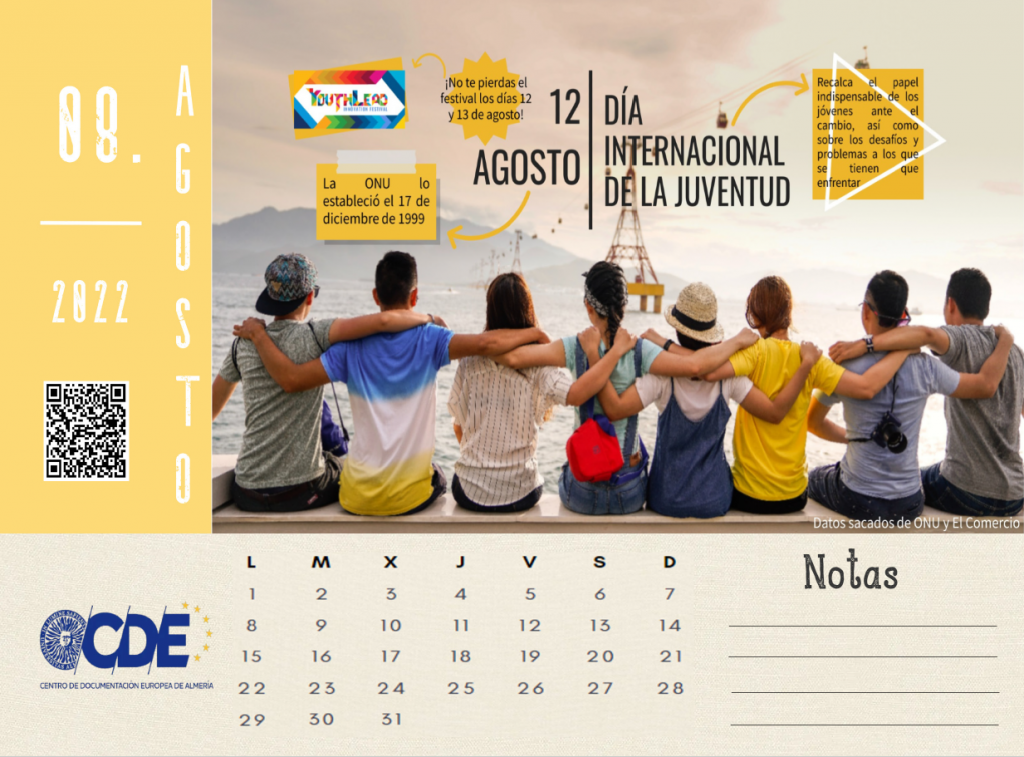 International Youth Day is celebrated on August 12, highlighting the indispensable role of young people in the face of change, as well as the challenges and problems they have to face. This day was established by the UN on December 17, 1999. Check out relevant information about this international day in our interactive infographic through the QR code.
September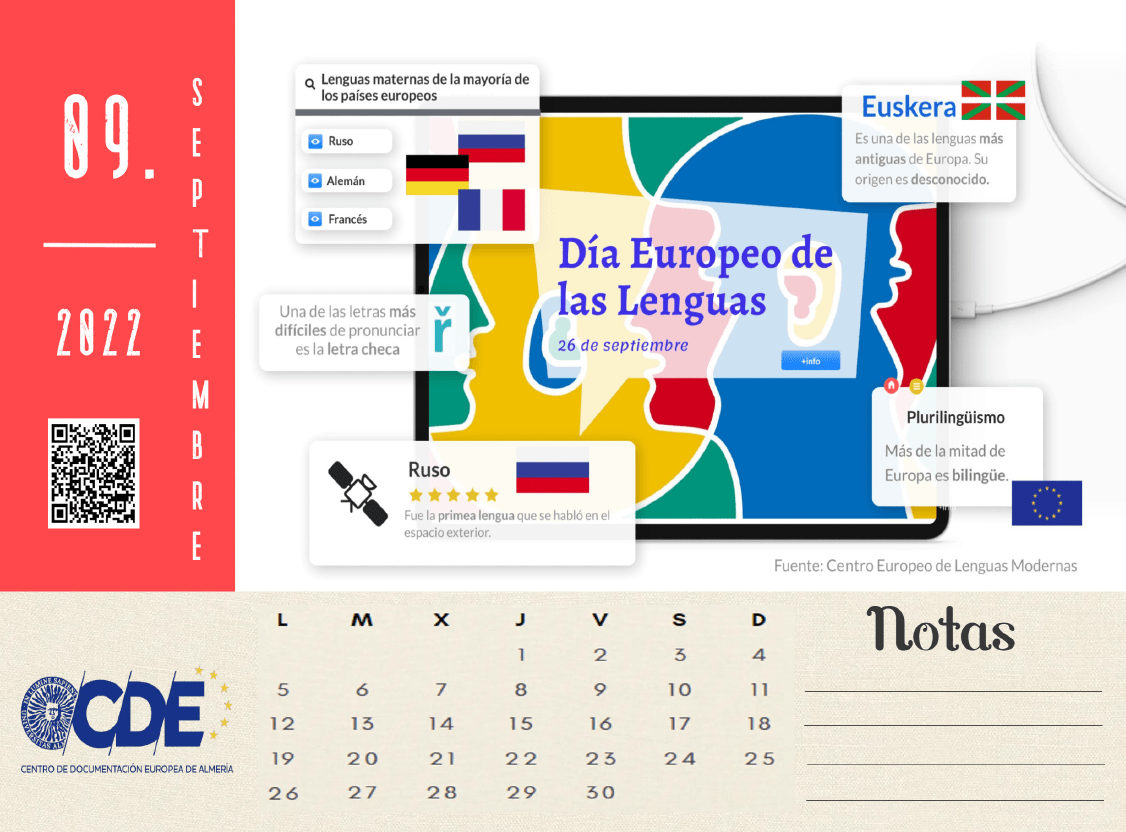 Hello there! Ça va? Sehr gut! The European Day of Languages is celebrated on September 26th. Did you know that Basque is one of the oldest languages in Europe and that its origin is unknown? You can check linguistic curiosities in our interactive infographic about this day using the QR code.
October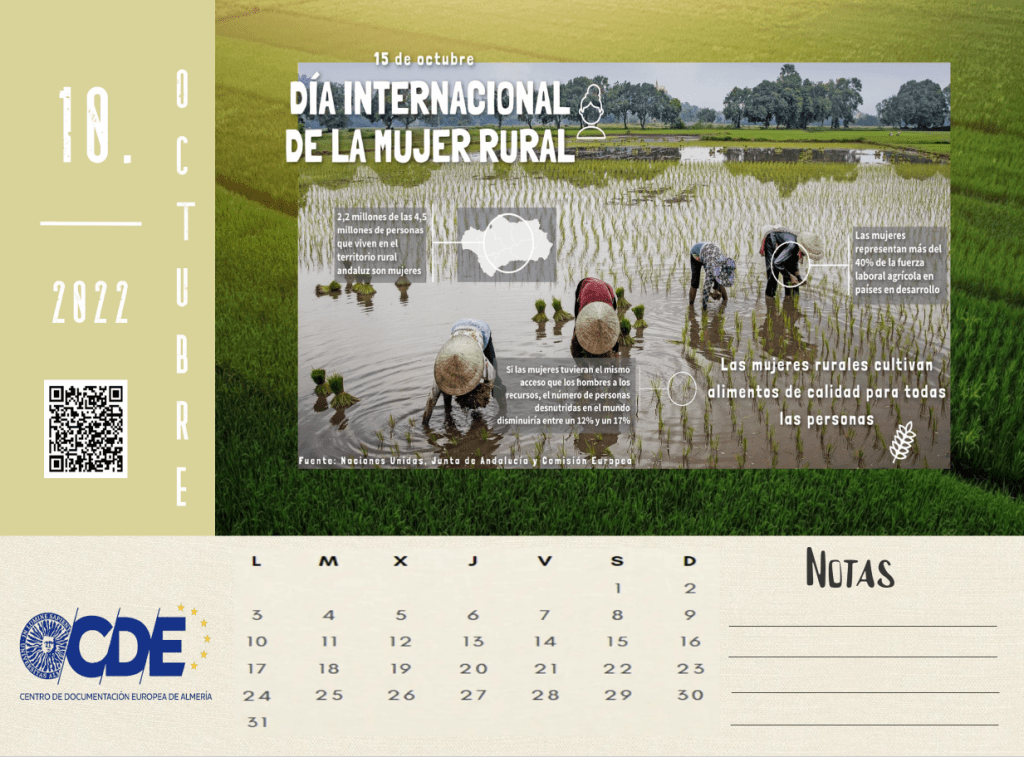 International Rural Women's Day is celebrated on October 15. Did you know there is still discrimination against women today when it comes to land ownership and equal pay? You can check out this and other interesting facts about this day in our interactive infographic about this day using the QR code.
November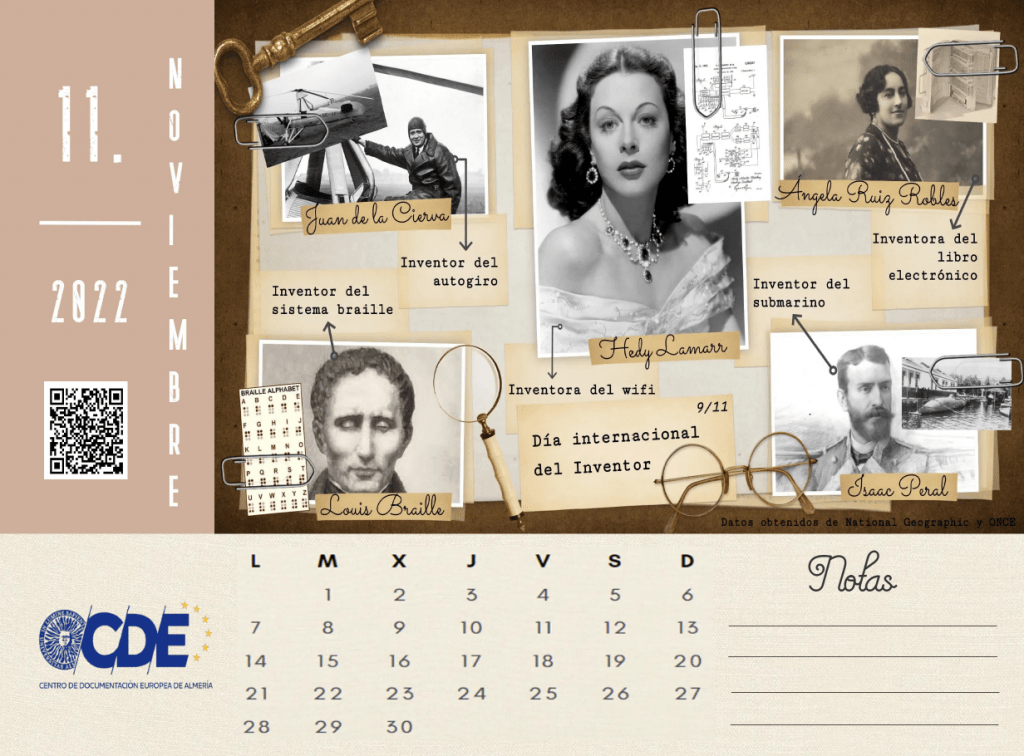 Do you know who was the inventor of the braille system or the submarine? November 9th is the International Inventor's Day and to commemorate this day we made an interactive infographic. Download our calendar and find out more about this day.
December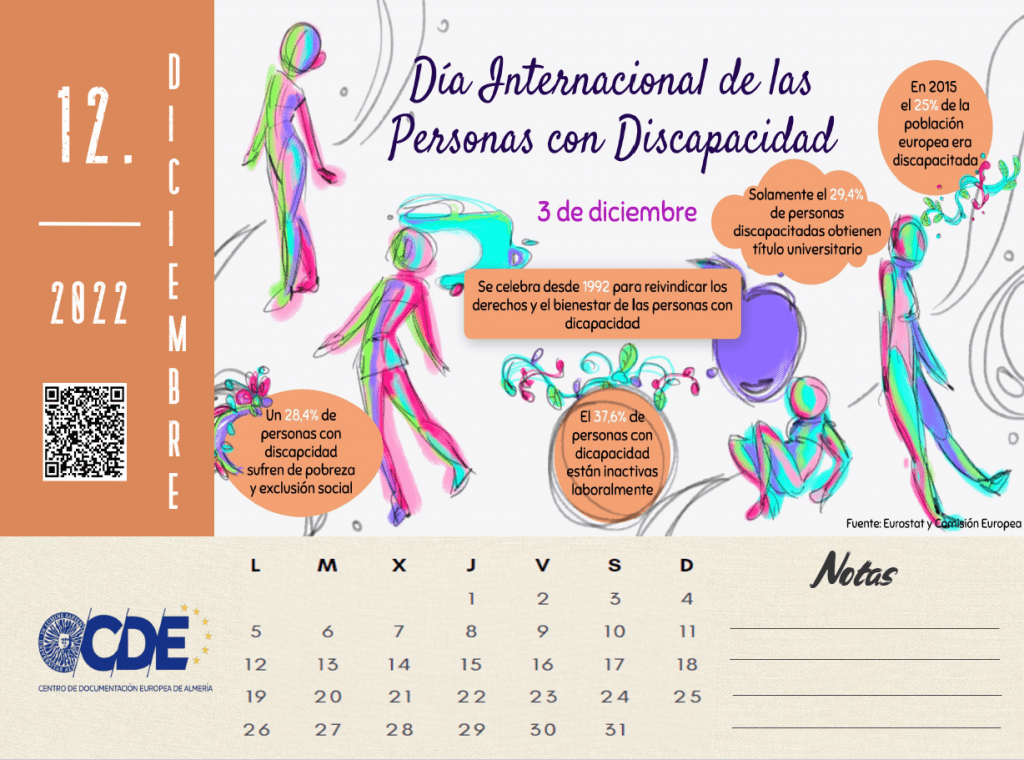 December 3 is the International Day of Persons with Disabilities. Did you know that 25% of the European population has a disability? Discover more fun facts about this day by downloading our calendar and scanning its QR code.
Complete Calendar
Calendar 2022 to print CDE Almeria – Wall format