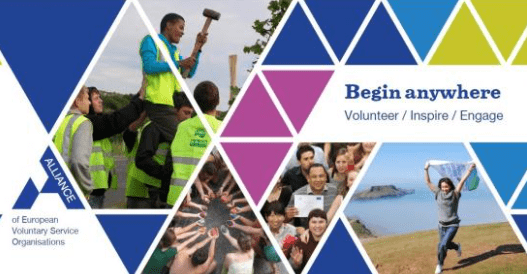 The Alliance of European Voluntary Service Organisations is an International Non-Governmental Youth Organisation that represents national organisations promoting intercultural education, understanding and peace through voluntary service.  
Workcamps
The main activity of their members is the organisation of short-term international voluntary projects, the workcamps.
A workcamp is a collective activity where a group of international volunteers, coming from different countries of the world, live together and work together, on a voluntary basis, for something beneficial for the local community.
Workcamps generally last 2- 3 weeks and consist of about 10-20 volunteers drawn from a number of countries. Projects can be in urban or rural areas, sometimes even in remote places. In all cases, the power of workcamps is bringing together young people from different countries and creating a link between them and the local community hosting the project.
There are not eligibility criteria or age limits to participate in workcamps: they target young people and teenagers but seniors are also welcome to join.
Mid and long term volunteering
Another form of International Voluntary Service proposed by Alliance members is mid and long term volunteering, meaning projects lasting between one and 12 months, and taking place mostly outside Europe.
How to participate
 ​​​​​Contact the Alliance organisations based in the country where you live.
If there is no organisation in your country please check here all you need to do.
More information