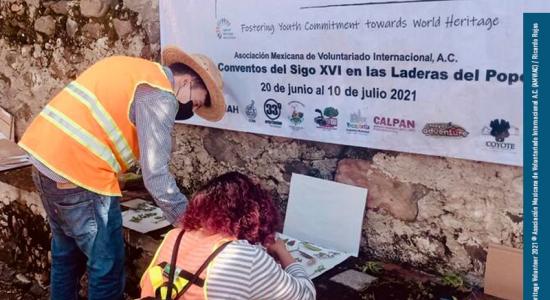 The UNESCO World Heritage Education Programme, initiated as a UNESCO special project in 1994, gives young people a chance to voice their concerns and to become involved in the protection of our common cultural and natural heritage. It seeks to encourage and enable young people between 18 and 30 years old to participate in heritage conservation and to respond to the continuing threats facing our World Heritage.
Who can participate
If you are between 18 and 30 years old, you can take part in a youth action camp as a volunteer for 2 to 4 weeks. You will have the chance to take concrete action and to play an active role in the promotion and preservation of World Heritage. You will have the opportunity to meet members of youth groups and heritage & education experts.
How to become a Volunteer?
To become a volunteer, please check the list of selected projects of the World Heritage Volunteers 2022 campaign, along with the brief descriptions of the selected projects.
You may choose a project of your interest, based on the activities, duration and timeline of the project.
For further support, get in touch with the organisations implementing the chosen projects directly, so that they may be able to provide you with details regarding the application procedure, and other necessary information.
World Heritage Volunteers is coordinated in collaboration with CCIVS and regional coordination by European Heritage Volunteers and Better World.
CCIVS, the International Non-Governmental Organisation engaged in the field of International Voluntary Service, organises camps taking place in Africa, Arab States, Latin America and the Caribbean, and Europe and North America;
European Heritage Volunteers offers programmes for professionals and volunteers without heritage-linked skills and includes conservation and restoration activities, training courses in handcraft, projects for students, volunteer camps and other projects providing education and awareness raising in the field of heritage.
Better World a Korea-based non-profit NGO, offers activities on global education, community development and international volunteering (the website is only in Korean).
More information