EU ambassadors meet with Holocaust survivors who participate in the Jerusalem's Foundation "Café Europa" programme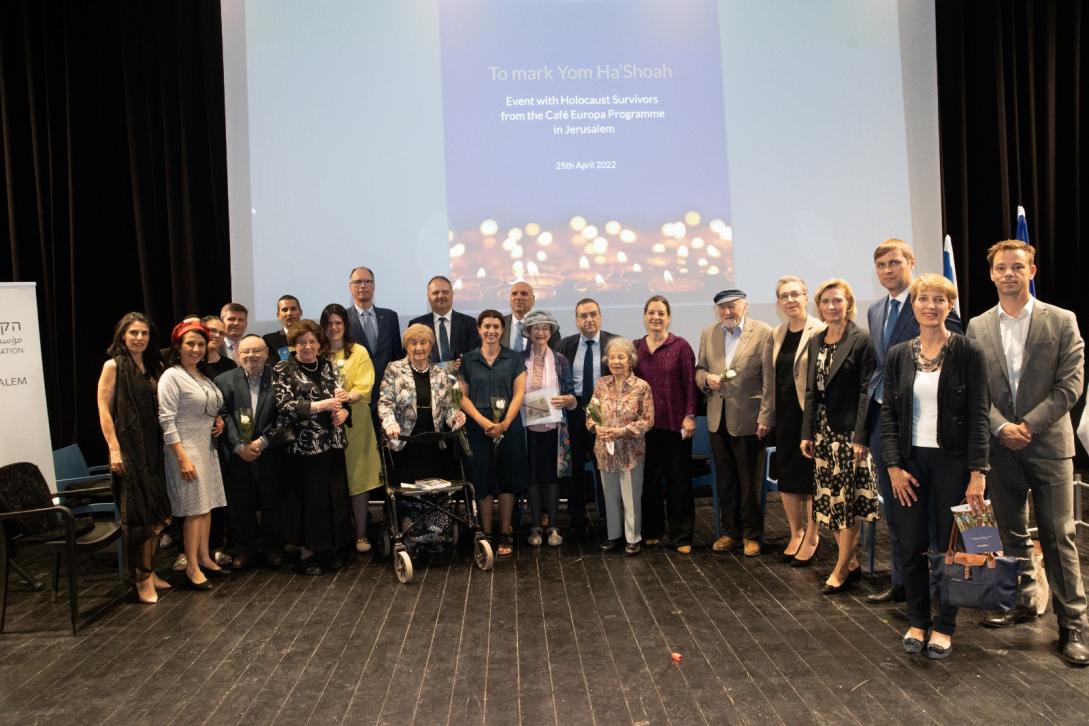 Ahead of Yom HaShoah, the European Union Delegation to the State of Israel and the Jerusalem Foundation on Monday, 25 April, hosted Holocaust survivors and European ambassadors for a special event to pay tribute to six million Jews who perished in the Holocaust, and to discuss the challenges and hardships of elderly Holocaust survivors living in Jerusalem today.
At the event, which took place at the Train Theater in Jerusalem, the EU ambassadors heard the moving story of Jose Levkovich, who survived seven Nazi death camps, rescued 600 Jewish orphans in Poland and later dedicated his life to hunting down Nazi war criminals.
They also met with several other Holocaust survivors who participate in the Jerusalem Foundation's "Café Europa" program, which offers social and cultural opportunities for Holocaust survivors living in the city.
EU Ambassador to Israel Dimiter Tzantchev said: "Engaging with and supporting Holocaust survivors is a sacred obligation for the European Union Delegation to Israel. As soon as we learned that the Jerusalem Foundation has a program for Holocaust survivors called 'Café Europa' we were eager to come and visit, and express our abiding commitment to strengthening Holocaust memory and education."
The ambassador extended a special welcome to the Holocaust survivors at the event and briefly presented the European Union's first-ever strategy on combating antisemitism and fostering Jewish life, which was issued in October. The strategy entails an actionable plan with many concrete proposals that earmarked millions of Euros for various projects to fight the hatred of Jews and to promote Holocaust memory and education. It reflects Europe's commitment to keep the memory of the Holocaust alive, even after the last Holocaust survivors have passed away.
Approximately 10,000 Holocaust survivors currently live in Jerusalem. Some 500 of them benefit from "Café Jerusalem," which has six branches across the city, where the survivors get together to exchange ideas, listen to concerts, sing together, listen to lectures or just for a cup of coffee.
Jerusalem Foundation President Shai Doron said: "The Café Europa program, established by the Jerusalem Foundation over a decade ago and working in close partnership with the Jerusalem Municipality and community centres, provides a safe and supportive framework for survivors to enjoy weekly social activities. It is one of the Jerusalem Foundation's most moving endeavours, high on our list priorities in the sphere of communal strength for the coming years."
Source: Delegation of the European Union to the State of Israel