The European Commission proposed to support 303 workers dismissed by aluminium producer Alu Ibérica in the region of Galicia in Spain with €1.2 million from the European Globalisation Adjustment Fund for Displaced Workers (EGF).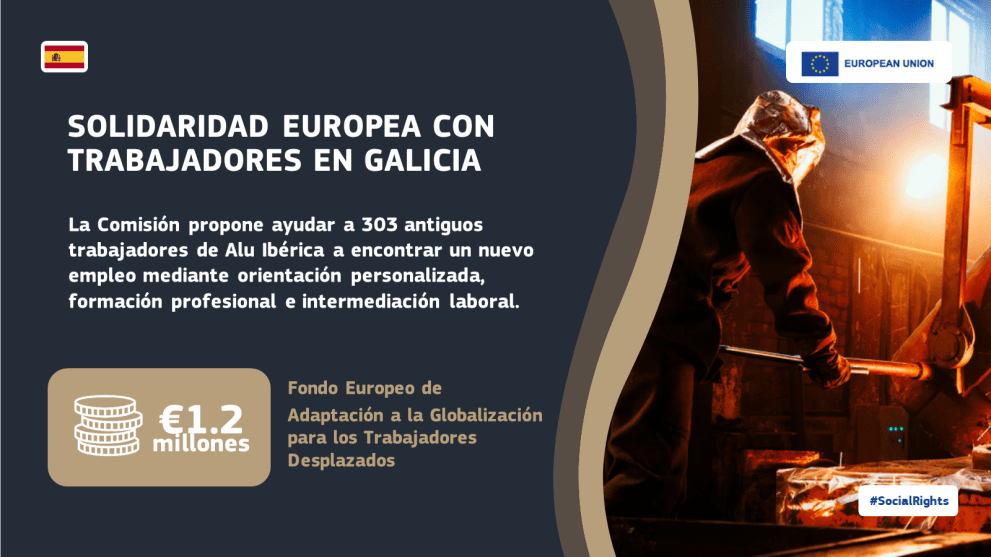 Spain applied for EGF funding support to help the workers dismissed by Alu Ibérica LC S.L., which declared bankruptcy. Alu Ibérica produced primary aluminium from mined ore. Due to increased energy and raw material prices the company had to shut down.
The EU-funded support to the dismissed workers includes advisory services, job search assistance and job-matching, as well as tailored vocational upskilling and reskilling. The workers also receive training in key skills and knowledge they need to find a new job, including basic IT skills, warehouse operations and logistics, and new welding techniques, as well as support in getting their skills and prior working and learning experience formally recognised. In addition, participants are eligible for an incentive of €200 per month, for a period of six months, if they return to the job market quickly.
Furthermore, the EU funding covers a variety of allowances, for instance financial incentives to participate in job-search and training activities, a contribution to commuting expenses, and expenses for carers of dependent persons, so that the people with care responsibilities can participate in the measures.
The total estimated cost of these measures is about €1.5 million, of which the EGF will cover 85% (€1.2 million). The Galicia Region in Spain will finance the remaining 15% (€225,000). Support to the eligible workers started after the company dismissed the workers in May 2022, and additional measures to be supported from the EGF in March 2023.
The Commission's proposal requires approval by the European Parliament and the Council.
More information: European Commission