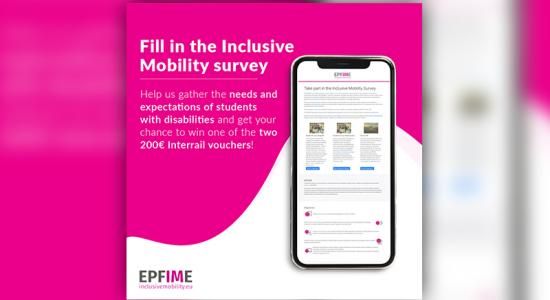 This survey aims to explore the needs and expectations of Higher Education Institutions from the European Higher Education Area (EHEA) on inclusive mobility. 
Launched by EPFIME team, the Inclusive Mobility Surveys aim to gather the needs and expectations of students with disabilities, ministries of education and higher education institutions across Europe on inclusive mobility, while focusing on how ministries and higher education institutions can collaborate more effectively to ensure the quality and transferability of support services for both incoming and outgoing students with disabilities in exchange programmes.
Aims
The survey is addressed to university leaders and staff working on the topic of inclusion and internationalisation, for example in International Offices, Disability,  Diversity and Inclusion, Access Offices, etc.
Specifically, the survey aims at:
– mapping the relevant higher education policies on inclusive mobility across Europe;
– mapping the needs, barriers and good practices on inclusive mobility;
– gathering guidance on how to best use the inclusivemobility.eu platform.
This survey aims to explore the challenges and enablers on student mobility for students with disabilities in higher education institutions.
Students with disabilities, with and without mobility experience, are invited to participate and get the chance to win an Interrail voucher (200€ value each).
The survey focuses on four specific themes:
●      Demographics – studying with disability at home institution
●      Challenges and enablers on international mobility
●      Expectations on Inclusivemobility.eu
●      Comments and follow-up
Dead line
31 October 2019
More information