It's possible to offer cleaner, better and innovative transport solutions in Europe. An EU initiative shows how.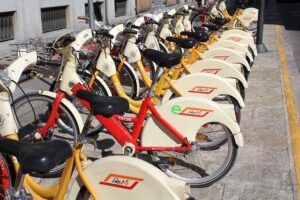 To realise a competitive transport sector that increases mobility and cuts emissions, several initiatives are being tested in various European cities under the EU-funded CIVITAS ECCENTRIC project.
ECCENTRIC, among several CIVITAS H2020 projects tackling all modes and aspects of transportation in urban environments, focuses on sustainable mobility in suburban districts and CO2-free city logistics.
Summarising the details of CIVITAS ECCENTRIC:
"In five living labs, the project demonstrates the potential and replicability of integrated and inclusive urban planning approaches, innovative policies and emerging technologies."
The living labs participating in ECCENTRIC are Stockholm, Turku, Madrid, Munich and Ruse. The brochure, produced as part of the CIVITAS SATELLITE Coordination and support action funded through Horizon 2020, also states:
"Clean vehicles and fuels are being tested, new regulations and services formulated and consolidation solutions developed in close partnerships with the private sector."
Innovative measures
ECCENTRIC integrates car and bike sharing, electromobility, city logistics and some other aspects of transportation.
A news item on the 'TheMayor.EU' portal explains how Stockholm, Madrid and Munich are tackling the challenges of sustainable urban mobility. As noted in the news item, some of the measures developed and deployed in Stockholm aim to make solutions such as mobility-as-a-service (MaaS) and private car sharing more accessible.
Related initiatives "are expected to achieve the overall aim to raise awareness when it comes to car-light lifestyle thus reducing traffic jams and harmful emissions. Different mobility suppliers are also partners of this project." In the case of Madrid, the measures involve "smart parking management in peripheral business areas through prioritizing clean and high occupancy vehicles."
The news item emphasises that all the solutions that are examined "aim to reduce the overall number of vehicles entering the business centres of the capital and, as a more far-reaching goal – to reduce pollution by exhaust fumes."
CIVITAS ECCENTRIC (Innovative solutions for sustainable mobility of people in suburban city districts and emission-free freight logistics in urban centres.) will continue until end-August 2020.
CIVITAS SATELLITE (Support Action Towards Evaluation, Learning, Local Innovation, Transfer and Excellence), which facilitates cooperation between CIVITAS 2020 projects, will end in December 2020.
"Through capacity-building, SATELLITE will provide city practitioners with the necessary skills to apply innovations in their own context, while additional exchange activities will prepare for the actual transfer and take-up of these solutions through community building approaches where cities can learn from their peers."
More information