BDI biotechnology's European LIFE YEAST project uses spent brewer's yeast to transform it into new bio-products of great value for other sectors, contributing to the circular economy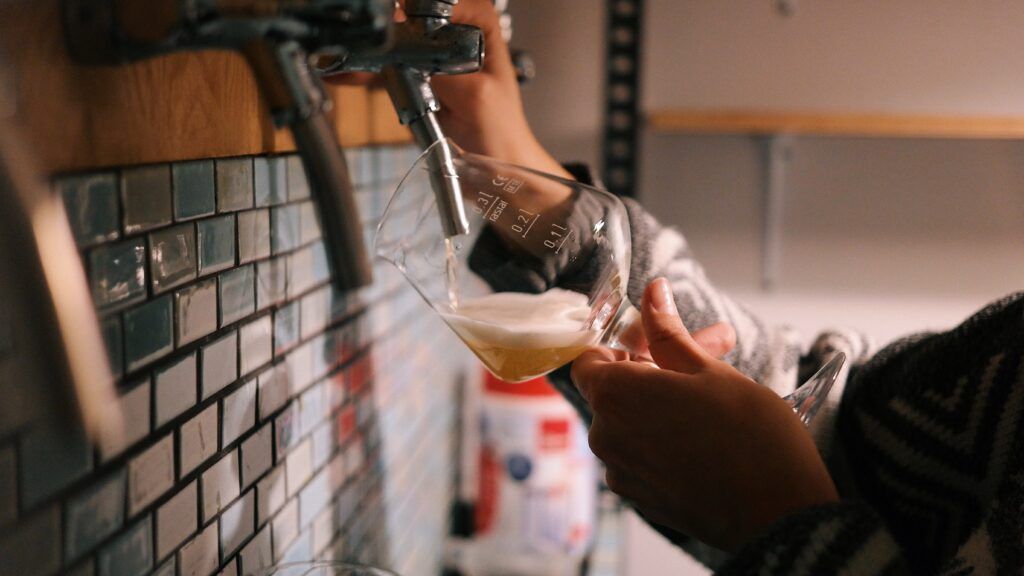 Context
Spent brewer's yeast is a by-product obtained in the brewing process, which is often sold as animal feed, and in many other cases is wasted and managed as a waste. By means of its treatment, BDI biotechnology coordinates, together with Anheuser-Busch InBev (AB InBev), the European LIFE YEAST project whose aim is to convert this by-product into raw materials with relevant properties for its use in other industrial sectors.
What can we do with this by-product to make use of it?
This is one of the big questions that the brewing sector is constantly asking itself.
In the brewing process, yeast is added to convert the sugars into ethanol. The excess yeast is collected and can be reused up to approximately six times in the same process. After this, spent brewer's yeast is obtained, which is the second most important by-product in the brewing process, representing 15%.
The project is coordinated by BDI biotechnology, a company which offers services for improving micro-organisms, and developing and scaling up biotechnological processes for the health and food segments. The world's largest beer manufacturer, AB InBev, also participates in the project.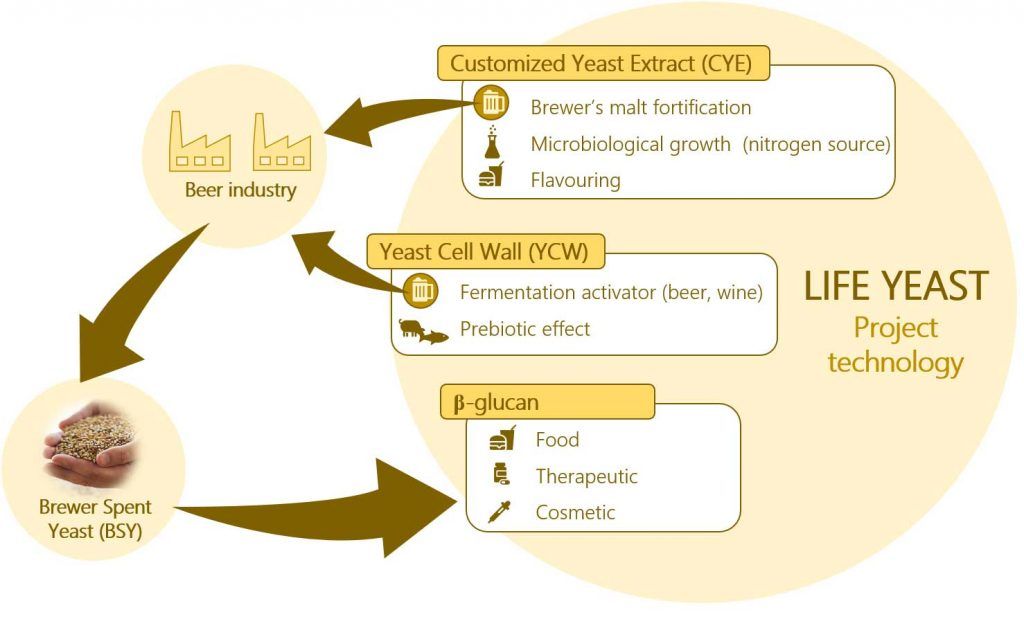 How does the LIFE YEAST project obtain these bioproducts?
The main tasks for obtaining the product include
1- The development of a pre-treatment, hydrolysis and purification process, using innovative technologies to obtain new bioproducts from spent brewer's yeast. These bioproducts are: yeast extract, cell wall and β-glucan.
2- The optimisation of each of the process stages with the aim of maximising the production of these bioproducts, taking into account a techno-economic and environmental assessment.
3- The scaling up of the process to 100 and 1000 L, proving that the process developed can be applied on a semi-industrial scale to produce greater quantities of these processed bioproducts.
4- Tests in which these bioproducts are included as raw materials in various processes, proving their application in different industrial sectors.
What are these bioproducts and what are their applications in industry?
The new bioproducts elaborated during the development of the LIFE YEAST project are yeast extract, cell wall and β-glucan.
Yeast extract is composed of a wide range of amino acids, carbohydrates, vitamins and minerals and is rich in proteins. This product is normally used in food due to its numerous organoleptic properties, acting as a flavour enhancer and helping to mask unpleasant flavours (Podpora et al., 2016).
In the LIFE YEAST project, the yeast extract obtained is being applied as a source of nitrogen in fermentations to produce VLPs (Virus Like Particles) in the pharmaceutical industry, and, as an enhancer in the fermentation of the beer-making process.
In turn, the cell wall is mainly composed of (1-3)-β-glucans, (1-6)-β-glucans, mannoproteins and chitin. Scientific studies claim that this product may have benefits in animal health, because the beta-glucan present in the cell wall stimulates the non-specific immune response and decreases the need for antibiotics (Liepins et al., 2015). During the project, trials are being conducted to test the cell wall produced as a prebiotic in animal feed, by introducing this raw material into this feed.
The latest bioproduct developed in the LIFE YEAST project is β-glucan, obtained through a process of extraction from the cell wall. This bioproduct has interesting physical-chemical properties, including its gelling and emulsifying capacity, which allows it to be used in food applications. It also has biological activity, associated with applications in medicine, food, pharmacy and cosmetics (Laroche et al., 2007).
One of the keys of this project is its contribution to the circular economy, which is key within the priorities of the European Union. For this reason, it has received funding from the LIFE programme, which is a European Union financial instrument dedicated to the environment and the climate change. The general objective of this programme is to contribute to the development of EU policies on the environment and climate change through co-financed value-added projects.
Connect
⇢ Coordinated by BDI biotechnology
⇢ Funded by LIFE
⇢ Project website: https://lifeyeast.com/
References
Chae, H.J., Joo, H., In, M-J., 2001. Utilization of brewer's yeast cells for the production of food-grade yeast extract. Part 1: effects of different enzymatic treatments on solid and protein recovery and flavour characteristics. Bioresource Technology, 76, 253-258.
In, M.J., Kim, D.C., and Chae, H.J., 2005. Dowstream Process for the Production of Yeast Extract Using Brewer's Yeast Cells. Biotechnology and Bioprocess Engineering, 10; 85-90.
Laroche, C., Michaud, P., 2007. New developments and prospective applications for β (1,3) glucans. Recent Patents on Biotechnology, 1, 59-73.
Liepins, J., Kovacova, E., Shvirksts, K., Grube, M., Rapoport, A., Kogan, G. 2015. Drying enhances immunoactivity of spent brewer's yeast cell wall B-D-glucans. Journal of Biotechnology, 206, 12-16.
Podpora B., Swiderski, F., Sadowska, A., Rakowska, R., Wasiak- Zys, G., 2016. Spent brewer's yeast extracts as a new component of functional food. Food Technology and Economy, Engineering and Physycal Properties, 34, 554-563.