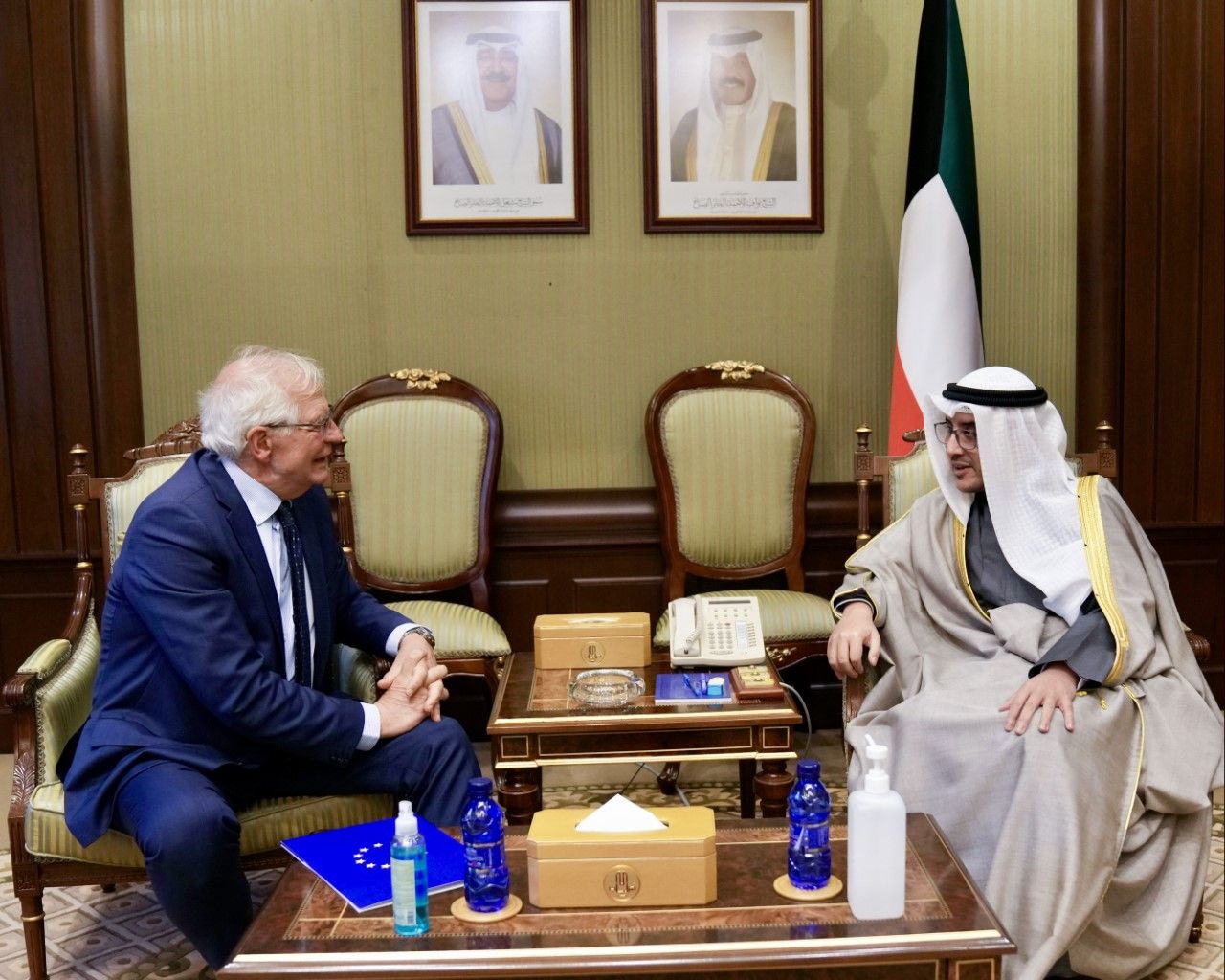 High Representative/Vice-President Josep Borrell visited Kuwait on Sunday to further develop the bilateral partnership between the EU and Kuwait, and to discuss regional consequences of Russia's aggression against Ukraine.
He also discussed possibilities to enhance the regional cooperation between the EU and the Gulf, and engage in joint efforts to tackle global challenges such as climate change and green energy transition.
During his visit High Representative Borrell held talks with Crown Prince Sheikh Meshal Al-Jaber Al-Sabah, Prime Minister Sheikh Sabah Al-Khalid Al-Sabah and Foreign Minister Ahmed Nasser Al-Sabah. These talks confirmed the strength and quality of EU-Kuwaiti partnership.
"For the European Union, Kuwait stands out as a close and reliable friend, and one of the most like-minded partners in the wider region," said the High Representative after his meetings."The EU is Kuwait's first import partner and the second biggest trading partner. But we can still do more together," he added.
Kuwait was the first Gulf country with whom the EU signed the Cooperation Arrangement in 2016. Since then, the political and sectoral cooperation has deepened and expanded to a large variety of fields, from trade and investments to research, education, development and humanitarian aid, security and counter-terrorism.  "To further enhance our partnership we have identified cooperation on health, food security, education, digital and green transition as our priorities for the upcoming period," High Representative Borrell said.
"The ongoing energy diversification and transition to renewable energy sources, coupled with recent efforts to terminate our dependency on Russia, create a new momentum and open up a new space for our cooperation with Kuwait," he stressed and recalled that Kuwait also plays an important role in stabilizing the international oil market.
In the context of the Russian aggression against Ukraine High Representative Borrell appreciated Kuwait's principled stance in its reactions and voting on the United Nations Resolutions condemning the invasion and calling for its immediate halt. "The current situation makes our partnership with the Gulf even more relevant," stated Mr Borrell in Kuwait City stressing the need for more international unity in clearly rejecting any aggression and war.
"Putin's war is actually not a war but a systematic destruction of a country. And it is not only about Ukraine. It violates the international rules and the UN Charter. It is an attack on every independent and sovereign country and constitutes a threat for the security around the world, creating further instability. It already has negative effects also in the Gulf and Middle East," the High Representative said.
He recalled that the impact of the illegal and unprovoked invasion of Ukraine is already felt far beyond Ukraine – in rising prices for food and other commodities, whereas the countries most vulnerable to the disruption of food supply chains and high commodity prices are outside Europe. He also warned about the propaganda and disinformation campaigns Kremlin is using to accompany his military attack on Ukraine.
In his discussions with Kuwaiti counterparts the High Representative raised also regional issues and challenges such as nuclear talks with Iran or humanitarian needs stemming from ongoing crises in Syria, Yemen and Afghanistan. Both sides assessed prospects of the Middle East Peace Process, reaffirmed commitment to the two-states solution and continued support for Palestinian people.
More information: European External Action Service – Press release