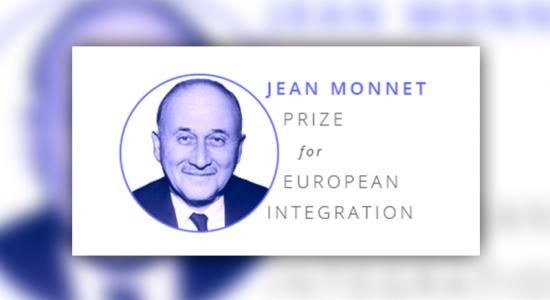 Awarded annually, the prize recognises and celebrates achievements that contribute to supporting and strengthening European integration. 
The Jean Monnet Prize for European Integration aims at honouring Jean Monnet's memory and life achievements. It does so by rewarding talented individuals or groups having contributed to supporting or strengthening European Integration through a project they designed and implemented.
Aim
• Rewarding individuals and groups for efforts in promoting European integration and federalism;
• Encouraging citizens, in Europe and abroad, to promote, contribute to, and strengthen European integration and unity; and
• Honouring Jean Monnet's memory and life-long engagement in favour of European integration and federalism.
Who can apply
The contest is free and open to all individuals or groups, whether formally registered as an organisation or institution or not and regardless of their citizenship, having developed and implemented (or started to implement) a project supporting European integration, be it from a political, economic, social, cultural or other perspective.
Applicants must be over 18. In case of a group, members of the group may be below 18, provided the individual in charge of and carrying out the application be over 18.
How to apply
Entrants are invited to fill in the application form providing:
– the project's goals, purpose and objectives;
– the project's inception;
– the people and partners involved in its design and implementation;
– the way the project supports or furthers European integration; and
– the project's results and future steps.
Deadline
9 October 2019, 23:59 CET
More information