The uptake of digital technologies by businesses has the potential to improve services and products as well as to increase competitiveness. The crisis caused by COVID-19 has also shown that digitalization is a crucial tool to improving the economic resilience of businesses.
In 2020, only 1% of EU enterprises with at least 10 persons employed reached a very high level of digital intensity while 14% reached a high level. The majority of the enterprises recorded low (46%) or very low (39%) levels. Compared to 2018, the Digital Intensity Index (DII) has seen a general improvement at the EU level, with increases at both very high (+5.0 percentage points (pp)) and high (+0.4 pp) levels.
The DII measures the use of different digital technologies by enterprises and its score (0-12) is determined by how many of the 12 selected digital technologies the enterprises use. The higher the score, the higher the digital intensity of the enterprise, ranging from very low to very high.
Eurostat data show that 9% of the EU's large enterprises had a very high DII and 42% a high level, while only 2% of medium-sized companies registered a very high-intensity level and one-quarter (25%) a high DII. Only 0.4% of small enterprises reached a very high digital intensity, with only 12% scoring a high DII.
Almost half of the medium (47%) and small (46%) size enterprises showed a low level of digital intensity.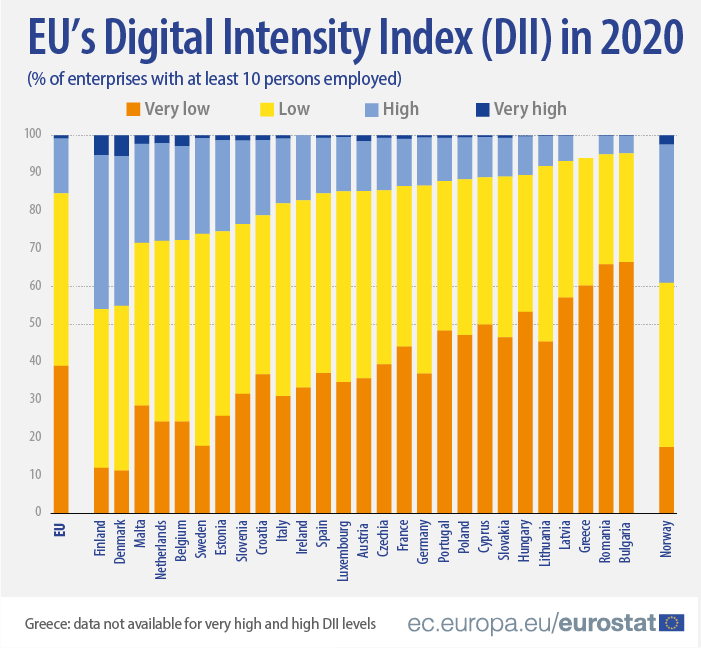 Finland and Denmark (both 5%) and Belgium (3%) were the EU countries with the biggest proportions of highly digitalised enterprises, while the remaining countries had at most 2% of enterprises with very high level of DII.
By contrast, in Bulgaria and Romania (both 66%), Greece (60%), Latvia (57%) and Hungary (53%), most businesses show a very low DII, indicating a small investment in digital technologies.
According to one of the targets of the EU's vision for digital transformation, at least 90% of the EU's small and medium-sized enterprises (SMEs) should reach a basic level of digital intensity by 2030. The basic level entails the use of at least four technologies and includes enterprises with low, high and very high DII. In 2020, three out of five SMEs (60%) in the EU reached at least a basic level of digital intensity, against 89% of large enterprises.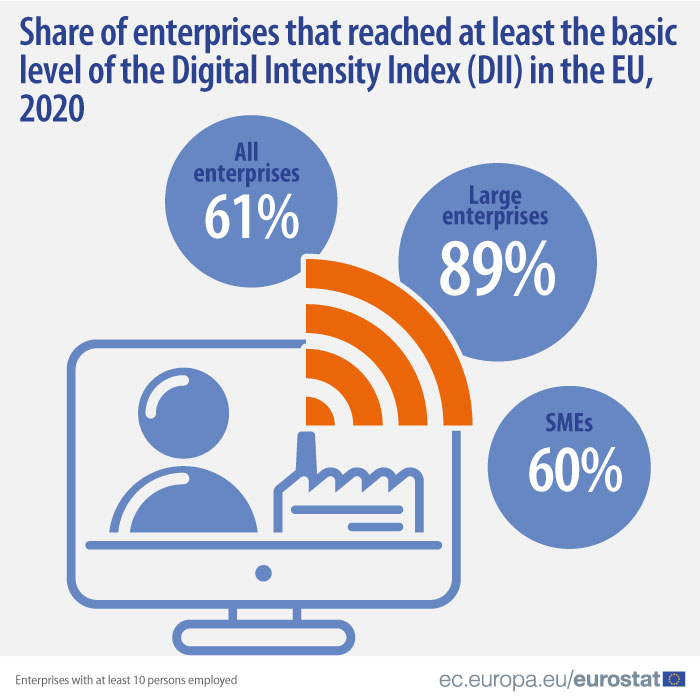 More information