Future News Worldwide 2022 is an international summit for young media makers.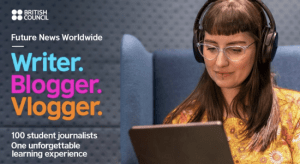 Participants will join for 3 hours each day to hear from key note speakers, participate in a pitching workshop and network with other young journalists. The session will be repeated later in the day to allow participation from all time zones.
Eligible participants should
– be between 18-25 years old on 1 July 2022;
– be a registered student, enrolled in an undergraduate or postgraduate course (of any subject) at a university or higher education institution or  have graduated from a degree course after 1 July 2021;
– be a native speaker of English or be able to speak English at IELTS level 6.5 or equivalent,
– not have participated in Future News Worldwide or Future NEWS before;
– be available to attend all three days online conference 12,13,14 July 2022.
How to apply
Participants must fill in the application form.
They should provide a motivation statement, either a 300 words letter or a multimedia format and a reportage of 500 words or 3 minutes video/audio in one of these topics: political, environmental, technological, social.
Deadline: 12 June 2022, 23:59 BST
Find out more here.