The new 2021-2027 programme will include volunteering for humanitarian aid outside EU and offer more opportunities for disadvantaged young people.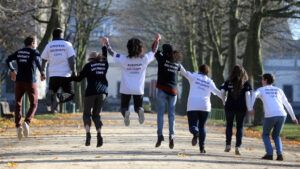 On Tuesday, MEPs adopted the new European Solidarity Corps programme for the 2021-2027 period, the single entry point for solidarity-related activities across and beyond Europe. Traineeships, jobs and network activities in areas related to solidarity are also part of the programme.
Humanitarian aid in non-EU countries is now included as a new strand of the programme. Volunteering in this field is open to young people and experienced participants, from the age of 18, highly qualified and highly trained, who have undergone a background check, especially those working with vulnerable people and children.
More opportunities for disadvantaged young people
The new programme will focus on young people with fewer opportunities, people from remote regions or with a migrant background, ensuring more opportunities for them to access this European scheme: personalised guidance, help with registration, option of participating on a part-time basis, etc. Participating in in-country activities will now be possible for people with fewer opportunities, but the activity should have a trans-border dimension and include participants from other countries.
Distinct strands of budget
A clear division of the programme budget for each strand was also voted on by the Parliament, allowing 86% of the overall budget for volunteering, 8% for traineeships and jobs and 6% for humanitarian aid activities.
The new programme will continue to allow individuals and organisations to participate in activities carried out for a period up to 12 months. The participating organisations are subject to a quality label differentiated by type of activity and regularly re-evaluated.
For better security at work, all individuals participating in the programme will sign a written volunteering agreement in accordance with national laws.
What is the European Solidarity Body?
The European Solidarity Corps wants to create opportunities for young people to work as volunteers or collaborate on projects – in their own countries or abroad – that benefit communities and citizens across Europe.
The goal is to give young people the opportunity to acquire valuable skills for personal, social, civic and professional development, while helping other people.
The projects include education, health, environmental protection, work with children and the elderly, as well as with migrants and asylum seekers.
Young people of 17 years can already register in the program, but must wait to participate in a project to reach the age of majority.
Más información
Access the  complete newss
Related video: First anniversary of the European Solidarity Corps