The 4th ASEF Young Leaders Summit (ASEFYLS4) is the official youth event of the 13th ASEM Summit (ASEM13) taking place in June 2021 in Cambodia and bringing together the Heads of States and Leaders of 53 ASEM Partners.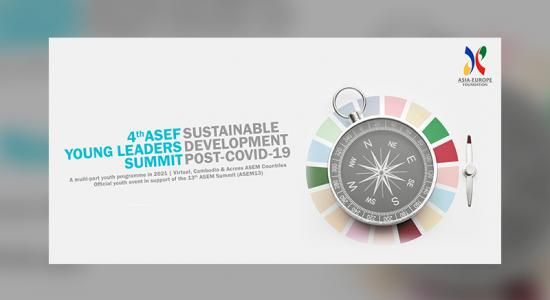 The ASEFYLS4 will focus on 'Sustainable Development in a post-COVID-19 World' and will incorporate 3 spheres for youth leadership: 1) self-leadership, 2) team leadership and 3) societal leadership. This 4th edition will be a hybrid project taking place virtually, in Cambodia, as well as across ASEM countries.
The programme will address 4 thematic areas:
SDG3: Good Health & Wellbeing
SDG4: Quality Education
SDG8: Decent Work & Economic Growth
SDG13: Climate Action
Requirements
Students, entrepreneurs, academics and young professionals, all between the ages of 18 and 30
Citizens of any of the 51 Asia-Europe Meeting (ASEM) Partner countries
Possessing strong verbal and written command of English
The organisers will cover professional/academic training & leaderships courses for all participants, including certificates.
For the selected ASEFYLS4 Summit youth representatives, the organisers will also cover the accommodation and meals for the duration of the on-site event in Cambodia, plus a travel subsidy from their country of residence to the starting point and back.
Deadline
03 February 2021
More information