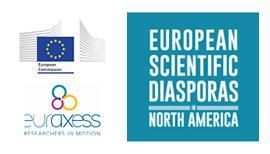 TITLE: 5th Annual Meeting of European Scientific Diasporas in North America #ESD19
WHEN: Tuesday, 10 December 2019 (all-day event)
WHERE: House of Sweden, 2900 K St NW, Washington, DC 20007
EURAXESS North America's working theme of 2019 is "Europe To Humanity", encompassing all European efforts in serving humanity. While European Research Day 2019 covered European strides and efforts in the fields of research in Social Sciences, Humanities and Arts, this event will build upon that, particularly from the lens of Open Access within the ever dynamic and evolving European Research Area (ERA). The latest scientific trends in both research policy and collaboration demonstrate an increased focus and vested interest in improving and promoting open access to research findings. This conference will explore the extent of European accomplishments and the trajectory of Open Access within ERA and the global research landscape.
During this annual meeting, we are delighted to announce the launch of a new European Scientific Diaspora: The Swedish Trans-Atlantic Researcher & Scholars Network (STARS Network).
The event will be open to all researchers in North America, this includes European researchers as well as current, previous and potential researchers based in North America (Canada/US) who have or would like to benefit from European research grants to further their careers. Representatives from European Embassies, North American universities, industry, research institutions & partners are also expected to attend and participate.