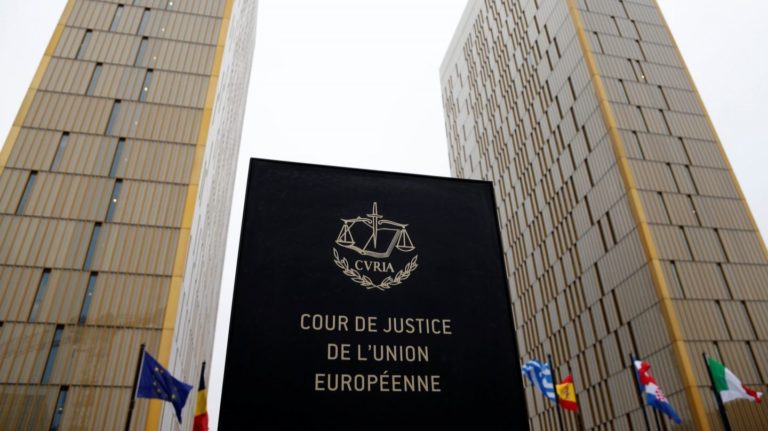 At a formal sitting before the Court of Justice today at 15.00, the President and Members of the European Commission gave the solemn undertaking prescribed by the Treaties in the presence of his Royal Highness the Grand Duke, the President of the Chamber of Deputies of the Grand Duchy of Luxembourg, Mr Fernand ETGEN, and the Prime Minister of the Grand Duchy of Luxembourg, Mr Xavier BETTEL. Prior to the President and Members of the Commission giving the solemn undertaking, Mr Koen LENAERTS, President of the Court of Justice, delivered an address.
The solemn undertaking was given by Ms Ursula VON DER LEYEN, President, Mr Frans TIMMERMANS, Executive Vice-President, Ms Margrethe VESTAGER, Executive Vice-President, Mr Valdis DOMBROVSKIS, Executive Vice-President, Mr Josep BORRELL FONTELLES, High Representative/Vice-President, Ms Vĕra JOUROVÁ, Vice-President, Ms Dubravka ŠUICA, VicePresident, Mr Margaritis SCHINAS, Vice-President, Mr Johannes HAHN, Ms Mariya GABRIEL, Mr Nicolas SCHMIT, Mr Paolo GENTILONI, Mr Janusz WOJCIECHOWSKI, Mr Thierry BRETON, Ms Elisa FERREIRA, Ms Stella KYRIAKIDES, Mr Didier REYNDERS, Ms Helena DALLI, Ms Ylva JOHANSSON, Mr Janez LENARČIČ, Ms Adina VĂLEAN, Mr Olivér VÁRHELYI, Ms Jutta URPILAINEN, Ms Kadri SIMSON, and Mr Virginijus SINKEVIČIUS.
Whilst the Treaties make no express provision for the manner in which the solemn undertaking is to be given, the Commission has always attached great importance to the undertaking being given before the Court of Justice. Reiterating its deep commitment to this tradition, the new Commission swiftly appeared before the Court of Justice, just several weeks after beginning its work.
The solemn undertaking given by the President and the Members of the Commission is as follows:
'Having been appointed as a Member of the European Commission by the European Council, following the vote of consent by the European Parliament, I solemnly undertake: 
to respect the Treaties and the Charter of Fundamental Rights of the European Union in the fulfilment of all of my duties; 
to be completely independent in carrying out my responsibilities, in the general interest of the EU;
in the performance of my tasks, neither to seek nor to take instructions from any Government or from any other institution, body, office or entity;
to refrain from any action incompatible with my duties or the performance of my tasks.
I formally note the obligation laid down under the Treaty on the Functioning of the European Union, by virtue of which each Member State is to respect this principle and is not to seek to influence Members of the Commission in the performance of their tasks.
I further undertake to respect, both during and after my term of office, the obligations arising there from, and in particular the duty to behave with integrity and discretion as regards the acceptance, after I have ceased to hold office, of certain appointments or benefits'.
More Information