During his first official trip to Washington, the Minister of Foreign Affairs, European Union and Cooperation held meetings with top officials of the U.S. Administration and representatives of international institutions. The Minister was accompanied by Secretaries of State Ángeles Moreno Bau and Juan Fernández Trigo, who held meetings with their respective U.S. counterparts.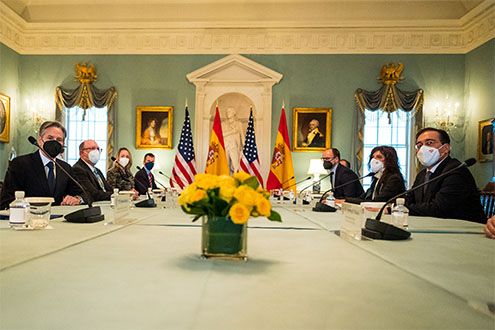 The visit included a meeting with his US counterpart –Secretary of State Antony Blinken – at which they will address various issues on the bilateral and international agenda, such as the upcoming NATO Summit, which will be held in Madrid on 29 and 30 June, Ibero-America, the situation in Ukraine, collaboration at a multilateral level and the state of trans-Atlantic relations.
The objective of the two-day visit was to highlight the close alliance between Spain and the United States, two nations whose relations have grown stronger and stronger over the years and which are especially intense in economic and commercial matters, in security and defense, and in cooperation to face challenges such as the fight against climate change or the Covid-19 pandemic.
At the beginning of this meeting, Anthony Blinke stated that it was a pleasure to welcome his friend, Foreign Minister Albares, to the State Department and to Washington. He emphasized that this meeting, and all the conversations and meetings held with the Spanish Minister, are proof of the incredibly close alliance and relationship between the United States and Spain. He pointed out that Spain is a strong partner and ally of the United States, and indicated that both were eager to talk about the many different issues they have already worked on together, such as Africa, the Sahel, but also in Latin America.
More information
The Embassy also reports that Secretary of State Antony J. Blinken
hosted Spanish Foreign Minister José Manuel Albares today in Washington, D.C. The Secretary and Foreign Minister discussed the importance of coordinating actions in support of Ukraine's sovereignty and territorial integrity and reiterated that any further Russian aggression toward Ukraine would result in a severe response. The Secretary and the Minister reaffirmed their commitment to strengthening cooperation between the United States and Spain to address shared challenges, such as promoting democracy and human rights in Latin America, strengthening transatlantic security, and a broad range of other global issues.
More information
Pleasure to host Spanish Foreign Minister @jmalbares in Washington. Spain is a steadfast Ally and strong partner on a range of issues from countering Russian aggression against Ukraine to deepening our partnership in Latin America. pic.twitter.com/L5neOqXDdJ

— Secretary Antony Blinken (@SecBlinken) January 18, 2022