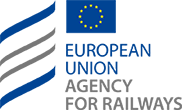 Access to the official webpage and the social networks
Based in France, the ERA is helping to integrate European railway systems by making trains safer and able to cross national borders without stopping.
Since 2006, the ERA has:
The ERA has its headquarters in Valenciennes and international conference facilities in Lille.
Tasks
Promote a harmonised approach to railway safety
Devise the technical and legal framework in order to enable removing technical barriers, and acting as the system authority for ERTMS and telematics applications
Improve accessibility and use of railway system information
Act as the European Authority under the 4th Railway Package issuing vehicle (type) authorisations and single safety certificates, while improving the competitive position of the railway sector.