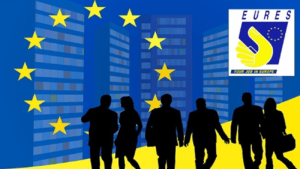 EURES Spain in collaboration with EURES Ireland is organizing a European employment day called "Ireland Recruitment in Madrid".
It is a RECRUITMENT event for IRISH COMPANIES that will take place online and in person. The recruitment phase for Irish companies from various sectors (such as Health (nursing, caregivers, pharmacy …), Hospitality, Engineering, Marketing and sales, ICT, Biotechnology, Construction, Administration, languages ​​…) will be presesencial and the Interviews will be made to the selected candidates in Madrid, on Thursday, May 9, 2019 from 9:30 a.m. to 6:30 p.m.
To qualify for the face-to-face interview that will take place the Training Center Santamarca, Public State Employment Service (SEPE), located in C / Costa Rica, 30, Madrid, registration must be made before 05/05/2019.
What is European Online Job Day?
The European Job Days, the "Job Day", are dynamic recruitment events whose objective is to facilitate recruitment or job search in Europe, connecting jobseekers and companies. They are organized by the EURES network (European Employment Services), in collaboration with the European Commission.
Who can participate in these events?
The three legs of these processes are: companies (in this case Irish) that have vacancies to work in different sectors. The Public Employment Services of Spain and Ireland, integrated into the EURES network, which organize and coordinate this recruitment process. And of course the candidates to work in another country. The tool through which this process is articulated is the web platform, in which companies publish their offers and candidates can register in those that interest them.
Who is it for?
On the one hand, Irish companies with personnel needs, and on the other hand, any person with Spanish nationality or of any EU country, with knowledge of English and interested in working in Ireland. Job seekers can find offers and hiring opportunities and access useful practical information about the job they attend, the living and working conditions in the country of destination and in each activity sector.
Registration deadline
05-05-2019
Further information
Mail: eures.almeria.sae@juntadeandaluciae.es).