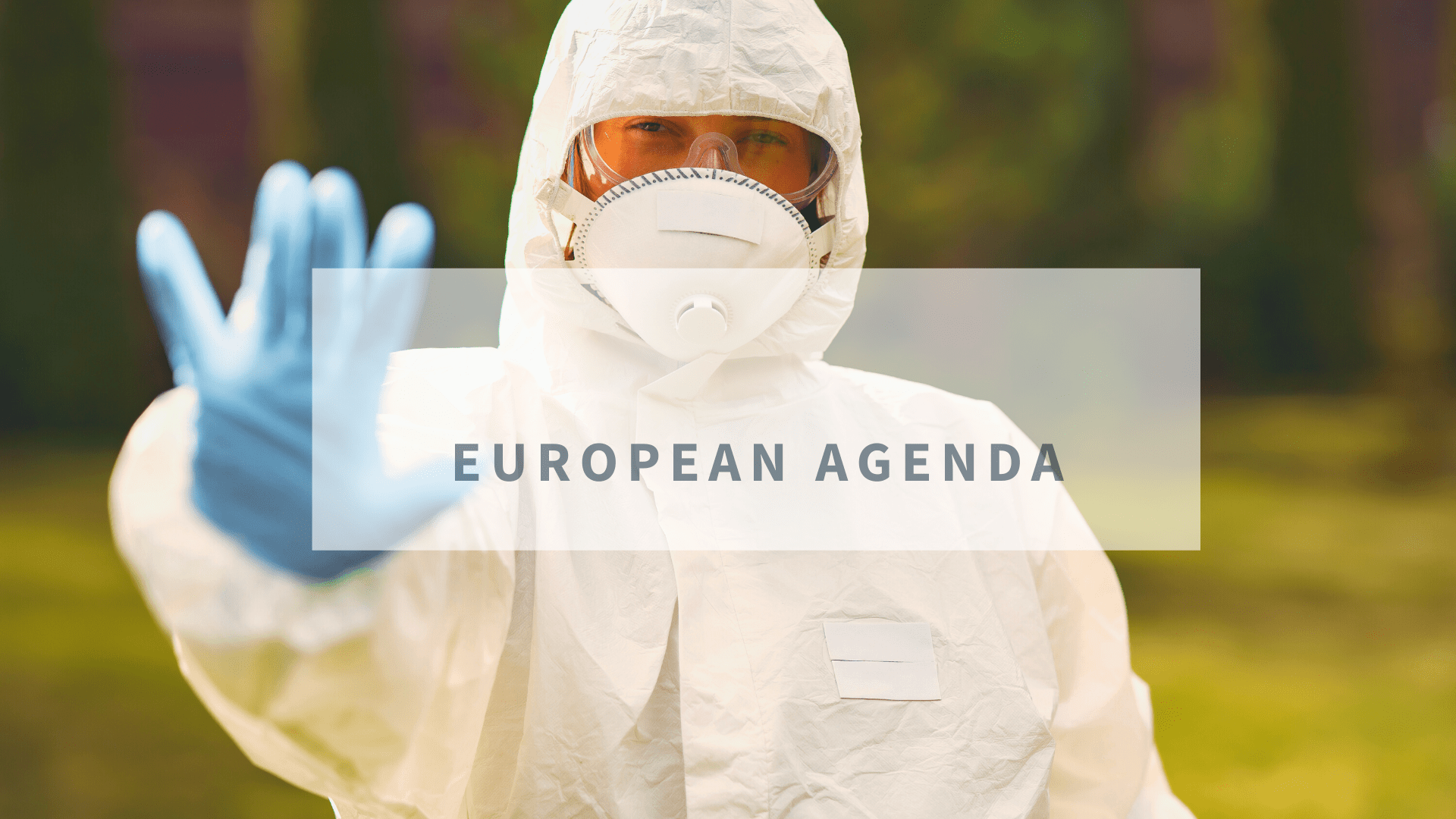 The EU is supporting local governments to achieve common objectives, pool resources and overcome shared challenges. In addition, measures are being taken to fight the COVID-19 pandemic.
We highlight below what the European institutions have been working on to date:
---
3 May, European Commission: Commission publishes open public consultation on the European Health Data Space
The Commission published an open public consultation on the European Health Data Space (EHDS) – an important building block of the European Health Union. The EHDS aims to make full use of digital health to provide high-quality healthcare and reduce inequalities. It will promote access to health data for prevention, diagnosis and treatment, research and innovation, as well as for policy-making and legislation. The EHDS will place individuals' rights to control their own personal health data at its core. The consultation will remain open for responses until 26 July 2021.
Stella Kyriakides, Commissioner for Health and Food Safety, said:
The European Health Data Space will be a crucial component of a strong European Health Union. It will enable EU-wide collaboration for better healthcare, better research and better health policy making. I invite all interested citizens and stakeholders to take part in the consultation and help us leverage the power of data for our health. This will have to rest on a strong foundation of non-negotiable citizens' rights, including privacy and data protection.
Innovative solutions and digital technologies including artificial intelligence (AI), can transform healthcare systems. They make them more sustainable and improve people's health. The development of these technologies requires secure access by researchers and innovators to substantial amounts of health data.
This public consultation focusses on:
the access to and use of health data for healthcare provision, research and innovation, policy-making and regulatory decision;
fostering a genuine single market for digital health services and products, including innovative ones.
More information
European Commission – Press Release
---
29 April, European Parliament:
Pakistan, Bolivia and the COVID-19 pandemic in Latin America
On 29 April, Parliament adopted three resolutions assessing the human rights situation in Pakistan and Bolivia, and the COVID-19 situation in Latin America.
The COVID-19 pandemic in Latin America
The COVID-19 pandemic is having a devastating impact on the Latin American continent, MEPs say, expressing their solidarity towards all victims and their families, as well all those affected by the health, economic and social crises.
The resolution calls on European and Latin American governments, EU institutions and Latin American integration bodies to step up bi-regional cooperation and to improve preparedness, access to basic healthcare, and to manage widespread vaccination plans more efficiently.
The EU and its member states must cooperate with the authorities in Latin American countries in need and deploy the EU Civil Protection Mechanism and other solidarity funding, MEPs say. They urge the international community to increase their efforts to strengthen the capacity of the COVAX initiative to distribute vaccines, while recognising the EU's leading role in efforts to secure fair and equitable access to safe and effective vaccines in low- and middle-income countries.
More information
European Parliament – Press Release
---
27 April, European Commission: EU channels critical support to India
A shipment of urgently needed oxygen, medicine and equipment will be delivered over the coming days by EU Member States to India, following the country's request for support through the EU Civil Protection Mechanism, which is coordinated by the Emergency Response Coordination Centre of the European Commission.
The offers of support from EU Member States via the Mechanism currently include:
Ireland: 700 oxygen concentrators; 1 oxygen generator; 365 ventilators;
Belgium: 9,000 doses of antiviral medicines Remdesivir;
Romania: 80 oxygen concentrators and 75 oxygen cylinders;
Luxembourg: 58 ventilators;
Portugal: 5,503 vials of Remdesivir; 20,000 litres of oxygen per week.
Sweden 120 ventilators.
This support has been made in line with the coordinated effort by EU Member States currently underway to pool their resources in responding rapidly to tackle the alarming epidemiological situation in India.
More EU support from other Member States is expected to be given in the coming days, including from France and Germany.
Janez Lenarčič, Commissioner for Crisis Management said:
The EU stands in full solidarity with the Indian people and is ready to do our utmost to support them at this critical time. I would like to thank our Member States that came in numerously with generous offers of help, showing that the EU is a trusted partner and a friend at times of need. The reach of the EU Civil Protection Mechanism goes well beyond the EU's borders. Our Emergency Response Coordination Centre is facilitating the logistical arrangements and the EU will cover the brunt of the transport costs.
More information
European Commission – Press Release
---
26 April, European Centre for Disease Prevention and Control: EMA and ECDC join forces for enhanced post-marketing monitoring of COVID-19 vaccines in Europe
The European Medicines Agency (EMA) and the European Centre for Disease Prevention and Control (ECDC) kicked off a new initiative aimed at strengthening post-marketing monitoring of the safety, effectiveness and impact of COVID-19 vaccines in the EU/EEA.
With the ongoing authorisation and rollout of several COVID-19 vaccines in the European Union (EU), jointly coordinated, large-scale, EU-wide effectiveness and safety studies are an essential tool to closely monitor how these novel vaccines perform in real-life. These studies are key to generate adequate evidence to support continuous assessment of the benefits and risks of the vaccines and inform decision-making on their use in national or regional vaccination strategies for different populations.
EMA and ECDC will jointly coordinate and oversee a number of observational studies which will be funded from the EU budget and conducted in several European countries. In line with their respective mandates and in collaboration with EU/EEA countries, EMA leads on monitoring the safety, and ECDC the effectiveness, of these vaccines. This work will be supported by a Joint Advisory Board (JAB) to the two Agencies that held its first meeting on 26 April.
More information
European Centre for Disease Prevention and Control – Press Release
---
23 April, European Medicines Agency – AstraZeneca's vaccine: benefits and risks
Vaxzevria (formerly COVID-19 Vaccine AstraZeneca) is authorised in the EU to prevent COVID-19, which can cause severe disease and death. The disease can also have long-term consequences in people of all ages, including in otherwise healthy people.
The benefits of Vaxzevria outweigh its risks in adults of all age groups; however, very rare cases of blood clots with low blood platelets have occurred following vaccination.
Known benefits and risk of Vaxzevria
Vaxzevria is effective at preventing hospitalisations, intensive care unit (ICU) admissions and deaths due to COVID-19. The most common side effects are usually mild or moderate and get better within a few days. The most serious side effects are very rare cases of unusual blood clots with low blood platelets, which are estimated to occur in 1 in 100,000 vaccinated people. People should seek medical assistance if they have symptoms.
What data show for age groups and infection rates
The Committee analysed the vaccine's benefits and the risk of unusual blood clots with low platelets in different age groups in the context of the monthly infection rates: low (55 per 100,000 people), medium (401 per 100,000 people) and high (886 per 100,000 people).
The analysis looked at prevention of hospitalisations, ICU admissions and deaths due to COVID-19, based on different assumptions of vaccine effectiveness to contextualise the occurrence of these unusual blood clots. It showed that the benefits of vaccination increase with increasing age and infection rates.
There were insufficient data available from across the EU to provide further context on benefits and risks with regard to sex.
Second dose of Vaxzevria
The Committee recommended to continue giving a second dose of Vaxzevria between 4 and 12 weeks after giving the first one in line with the product information.
The CHMP considered recommendations to give the second dose of Vaxzevria after a longer interval than the recommended 4-12 weeks, to not give a second dose at all, or to give an mRNA vaccine as a second dose.
However, there has not been enough exposure and follow-up time to determine whether the risk of blood clots with low blood platelets after a second dose will differ from the risk after the first dose. At present there are no or limited data to change current recommendations.
More information
European Medicines Agency – Press Release
---
7 April, Presidency event: Informal video conference of health ministers
The Minister for Health, Marta Temido, has called an informal meeting of European Union Health Ministers on 7 April.
This meeting, which was held by video conference, followed the public announcement of the conclusions of the PRAC (Pharmacovigilance Risk Assessment Committee) report from the European Medicines Agency on the safety of the AstraZeneca vaccine.
The meeting aimed at harmonising the positions of the different EU member states, not only in order to halt the spread of disinformation, but also to reach a common understanding regarding vaccination efforts in the European Union.
The European Medicines Agency was also present to provide clarification on any pending issues concerning its analysis and report on the AstraZeneca vaccine.
More information
Portuguese Presidency of the Council of the EU – Press Release