Today, fresh as well as convenience food is sold in packages which results in significant environmental impacts and pollution due to the plastic materials associated with the packaging.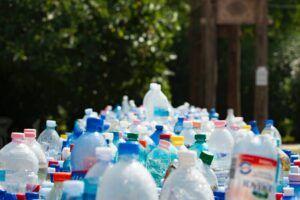 Current challenge
One answer to plastics in packaging are biodegradable materials, on the market for many years and their market share continues to grow. But there are severe restrictions preventing their wider application in food packaging, as these materials do not provide a sufficient barrier against water vapour, oxygen or flavours.
A new material
The EU-funded HyperBioCoat project addressed this challenge by developing and testing new biodegradable hybrid organic-inorganic coatings for use in food, cosmetics and medical device packaging. "We developed a coating material based on biopolymers extracted from lignocellulosic biomass by combining them with the material class of bioORMOCER®s," says project coordinator Stefan Hanstein from Fraunhofer IWKS. The bioORMOCER®s are biobased, biodegradable coatings developed by the Fraunhofer Institute for Silicate Research.
Apple pomace turn into polymers
De-pectinised apple pomace (the main solid waste generated in cider and apple juice making factories) performed well as a raw material. "The process developed is a combination of extraction and partial hydrolysis (intensified extraction). It provides 1 kg carbohydrate polymer from 25 kg dry pomace, with the potential for doubling the yield," Hanstein explains.
Researchers also investigated possible industrial applications for other types of fruit residues, like berry pomace and cocoa shells for novel food production systems and the biotech industry. They demonstrated a route for the chemical modification of carbohydrate polymers that achieves the required compatibility with the lacquer. "This showed how the new bio-based and bio-degradable polymer coating can be easily applied and at industrial scale, paves the way for further application in the industry," comments Hanstein.
The next step was to adapt the barrier coating to the different carrier materials, which involve flexible and rigid biopolymer substrates, and testing for the packaging applications. According to Hanstein: "This approach improves the properties of packaging materials and of bio-based recyclable materials by using a biodegradable barrier coating."
Project partners also demonstrated a new lean biomass extraction facility which can be installed in small agrobiorefineries. The facility covers a range of applications from providing tailored feedstock for fermentation processes (for example, biogas) and for novel food production systems, like insect culture, to delivering herbal extracts with bioactive compounds such as natural antimicrobials.
Environmental impact
HYPERBIOCOAT benefits the environment due to its lower CO2 footprint and conservation of natural resources: The supply chain does not require additional plant cultivation area, additional supply with water, fertiliser and pesticides. Furthermore, the food processing industry will benefit from a new value chain for their fibrous resources.
More informationn