Sustainable development aims to achieve continuous improvement in the quality of life and well-being of citizens, without compromising the well-being of future generations. This implies the pursuit of economic progress, as well as the protection of the natural environment and the promotion of social justice. For these reasons, sustainable development is a fundamental and overarching objective of the European Union and progress towards the objectives agreed at the UN is continuously analysed and studied.
Significant progress toward the goals of three SDGs and moderate progress for most others over the past 5 years
The overview figure on the next page shows a statistical summary of EU progress towards the SDGs over the most recent five years of available data (5), based on the average scores of the indicators selected for monitoring these goals in an EU context. Over this five-year period,the EU made progress towards almost all goals. Progress in some goals has been faster than in others, and movement away from the sustainable development objectives occurred in specific areas of a number of goals. A more detailed description of individual indicator trends can be found in the report published by Eurostat.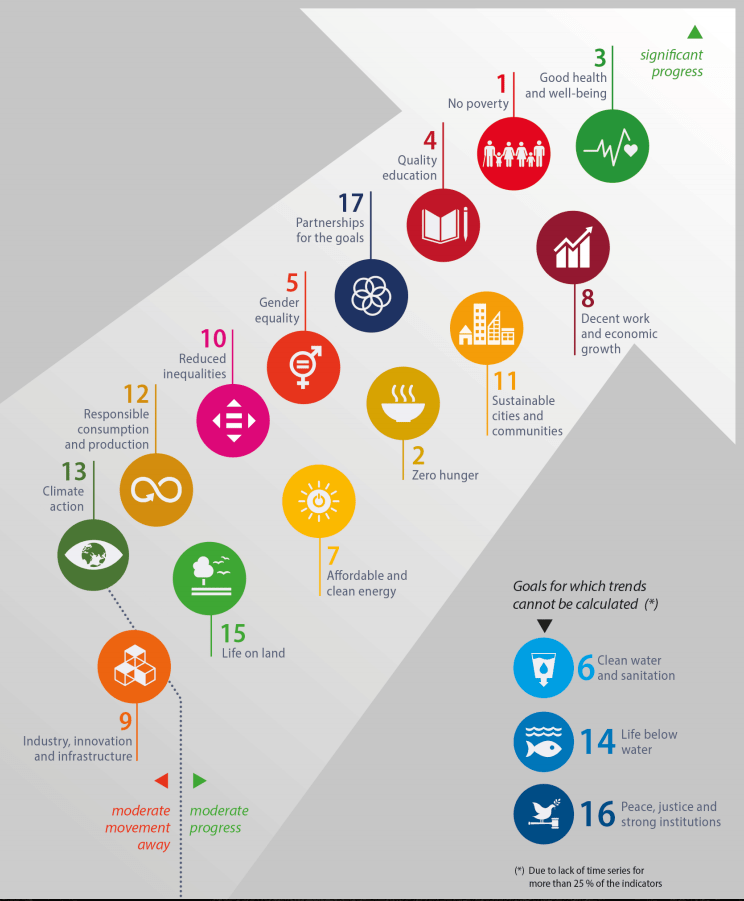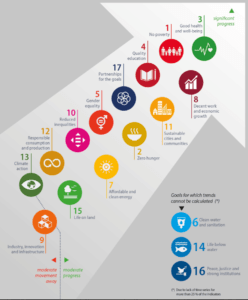 As the overview figure shows, the EU has made good progress in improving the living conditions of its citizens over the past five years. This improvement refers to gains in both actual and perceived health (SDG 3), reductions in certain dimensions of poverty and social exclusion (SDG 1), and increases in the quality of life in cities and communities (SDG 11). For example, both life expectancy and self-perceived health continued to grow in the EU, and Europeans seem to move towards healthier lifestyles. At the same time, severe material deprivation and low work intensity rates kept falling, while more and more citizens were able to fulfil their basic needs. These basic needs also include people's personal living situations, with fewer Europeans suffering from poor or inadequate housing conditions. These favourable trends can be seen against the background of an improving economic situation in the EU over the past five years (mainly monitored by the indicators of SDG 8).
Steady growth in the EU's gross domestic product (GDP) was accompanied by continuous increases in investment and employment, as well as declining unemployment (in particular youth unemployment and long-term unemployment). The growing economic activity in the EU, however, has not always been accompanied by favourable developments in the use of natural resources and its negative environmental impacts, as exemplified by the positions of SDG 7, SDG 12, SDG 13 and SDG 15 in the overview figure. While greenhouse gas emissions have been reduced, and the energy and resource intensity of GDP has steadily improved, consumption of materials and energy has increased in recent years, as has the generation of non-mineral wastes. The EU thus seems no longer on track to meet its respective 2020 targets for primary and final energy consumption. In addition, although the EU is on track to meet its 2020 greenhouse gas emission target, Europe continues to face intensifying climate impacts, such as increasing surface temperatures and ocean acidification. Furthermore, biodiversity — monitored by European indices for different groups of birds — continued to decline, while soil sealing through artificial and impervious surfaces kept growing.
Trends in the goal on education (SDG 4) appear largely favourable. The EU has already met its benchmarks for tertiary education and early childhood education and care, and is close to meeting the goals on early leavers from education and training, as well as on employment of recent graduates. Nevertheless, some areas of concern, such as underachievement in the PISA (Programme for International Student Assessment) test and adult learning, persist. The EU has also made some progress in supporting developing countries, for example, through financial flows and trade (SDG 17).
Trends were mixed in the area of sustainable agricultural production and its environmental impacts (SDG 2). Developments in the goals on gender equality (SDG 5) and other forms of inequalities (SDG 10) were also mixed, with both growing and declining inequalities in different topic areas. A slight movement away from sustainable development objectives was visible in the EU's innovation and transport performance, monitored by the indicators from SDG 9. Both R&D intensity and patent applications showed more or less stagnating trends over the past five years, and a shift towards more sustainable transport modes is not yet visible.
In the case of three goals — SDG 6 'clean water and sanitation', SDG 14 'life below water' and SDG 16 'peace, justice and strong institutions' — overall EU trends cannot be calculated due to insufficient data for the past five years.
More information
Access the complete news
Access the full report (Eurostat): Sustainable development in the European Union "Monitoring report on progress towards the SDGs in an EU context"
Related document: United Nations development programme annual report 2018