European Youth Week takes place every two years. It celebrates and promotes activities targeted at young people through events organised in all countries participating in the Erasmus+ programme. From 29 April until 5 May, the ninth edition of European Youth Week is taking place across Europe. This year's theme is "Democracy and me". Alongside activities taking place all week in all participating countries, on 29 and 30 April flagship events in Brussels will bring together hundreds of young people to make their voices heard.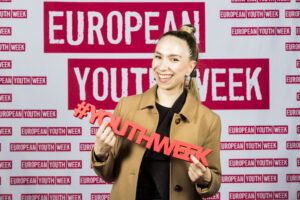 With a view to the upcoming European Parliament elections from 23 to 26 May, debates during this year's European Youth Week will focus on how young people can be active in their communities and influence democratic decisions.
On 30 April, Commissioner for Education, Culture, Youth and Sport, Tibor Navracsics, will host a Citizens' Dialogue with young people, as well as a flagship debate in the European Parliament in Brussels, gathering more than 800 youth who will discuss democratic participation as well as the impact of the European Solidarity Corps on young people, NGOs and local communities.
The results of a Eurobarometer survey released today show that for more than two thirds of young people (67%), priority number one for EU action over the next ten years should be protecting the environment and fighting climate change. The second and third priorities they identified are improving education and training, including free movement of students, apprentices or pupils (56%) and fighting poverty, economic and social inequalities (56%). In addition, 72% of young people interviewed say that, from the moment they were allowed to participate in elections until today, they voted in local, national, or European elections. The survey addressed around 11,000 young people aged between 15 and 30 years old in March 2019. Participants will have the opportunity to discuss these and other topics at European Youth Week events.
Además, esta tarde (29 de abril), el comisario Navracsics presentará los resultados de los Premios Altiero Spinelli de Divulgación de 2018. Esta edición de los Premios Altiero Spinelli se ha centrado especialmente en los jóvenes y va a recompensar proyectos para mejorar su conciencia crítica de la Unión Europea y su motivación para participar en los procesos democráticos que configurarán su futuro. A esta edición se presentaron setenta y nueve candidaturas, y cinco proyectos ganadores serán galardonados en un acto que se celebrará en Bruselas.
Contexto
One of the main topics of this year's edition, the European Solidarity Corps, was announced by Commission President Jean-Claude Juncker in his 2016 State of the Union address. It offers young people between the ages of 18 and 30 the opportunity to take part in a wide range of solidarity activities across the EU and beyond. Since its launch on 7 December 2016, almost 125,000 young people have registered for the European Solidarity Corps, and almost 15,000 participants started their activity.
The Altiero Spinelli Awards are a European Parliament initiative implemented by the European Commission, awarded for the first time in 2017. The Awards aim at putting the spotlight on outstanding works that enhance citizens' understanding of the European Union and their motivation to participate in democratic processes.
More information
Access the complete news
Results of the 2018 Altiero Spinelli Prize
Eurobarometer: "How do we build a stronger, more united Europe?" – The views of young people