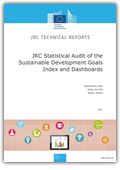 Título: JRC statistical audit of the Sustainable Development Goals index and dashboards
Resumen:El Centro de Competencia de la Comisión Europea sobre Indicadores y Marcadores Compuestos (COIN) del Centro Común de Investigación (CCI) fue invitado por la SDSN a auditar la edición de 2019 del Índice del SDG que se lanzará al margen del Foro Político de Alto Nivel de las Naciones Unidas sobre Desarrollo Sostenible de 2019. La auditoría que aquí se presenta tiene por objeto contribuir a garantizar la transparencia de la metodología del Índice SDG y la fiabilidad de los resultados.
Fecha publicación: 16-07-2019
Autor: Centro Común de Investigación (Comisión Europea)
ISBN / ISSN: 978-92-76-08995-7/1831-9424
Link: https://bit.ly/32sIjPf
Palabras clave: Auditoría, indicador medioambiental, informe de investigación, método estadístico, desarrollo sostenible.