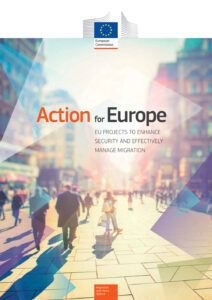 Título: Action for Europe. EU projects to enhance security and effectively manage migration
Resumen:La Unión Europea ha apoyado activamente los esfuerzos nacionales para mejorar la gestión de los flujos migratorios, la gestión de las fronteras y la seguridad con fondos del actual marco financiero plurianual (MFP).
Fecha publicación: 13-08-2019
Autor: Dirección General de Migración y Asuntos de Interior (Comisión Europea)
ISBN / ISSN: 978-92-79-98043-5
Link: https://bit.ly/300sI7T
Palabras clave:  Iniciativa de la UE, política de migración de la UE, seguridad europea, integración de los migrantes, migrantes, marco financiero plurianual, gestión de proyectos, trata de seres humanos.