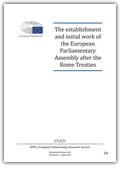 Título: The establishment and initial work of the European Parliamentary Assembly after the Rome Treaties
Resumen:La primera asamblea comunitaria fue la "Asamblea común" prevista en el Tratado CECA, que funcionó como parte de dicha Comunidad de 1953 a 1958. La Asamblea Parlamentaria Europea fue su sucesora histórica y jurídica, pero la creación de la CEE y Euratom en virtud de los Tratados de Roma de 1957 significó que, como órgano único al servicio de las tres Comunidades, ya no era la sede de la representación democrática de una organización que se ocupaba de un sector, a saber, el carbón y el acero, sino de un sistema de Comunidades que abarcaba toda la gama de actividades productivas y comerciales. En otras palabras, el sistema comunitario se ocupa ahora de la economía europea en su conjunto, pero sigue habiendo tres Comunidades con tres Tratados. La presente publicación trata esencialmente de dicho informe, situándolo en el contexto del debate más amplio sobre la naturaleza y el futuro de la integración que se abordó en las sesiones del período parcial de sesiones de marzo de 1958.
Fecha publicación: 16-07-2019
Autor: Dirección General de Servicios de Investigación Parlamentaria (Parlamento Europeo)
ISBN / ISSN: 978-92-846-4698-2
Link: https://bit.ly/2NWIHSL
Palabras clave:  Tratado CEE, Constitución Europea, Parlamento Europeo, historia de Europa, relaciones interinstitucionales, funcionamiento de las instituciones, asamblea parlamentaria.