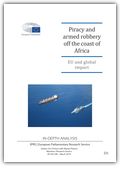 Título: Piracy and armed robbery off the coast of Africa: EU and global impact: in-depth analysis
Resumen:La seguridad marítima africana se ve afectada por una amplia gama de actividades ilegales. El presente documento se centra en la piratería marítima y el robo a mano armada en el mar, examinando los aspectos jurídicos y las implicaciones sociales de estas formas de violencia. La piratería marítima y el robo a mano armada frente a las costas de África también suponen una amenaza para la seguridad y la economía de la Unión Europea. Desde 2008, la Unión Europea viene aplicando una estrategia de seguridad marítima mediante estrategias regionales separadas en el Golfo de Adén y en el Golfo de Guinea.
Fecha publicación: 16-07-2019
Autor: Dirección General de Servicios de Investigación Parlamentaria (Parlamento Europeo)
ISBN / ISSN: 978-92-846-4684-5
Link: https://bit.ly/2LsQu8O
Palabras clave: África, delincuencia, acción de la UE, seguridad europea, lucha contra la delincuencia, cooperación internacional, aguas internacionales, vigilancia marítima, intervención militar, piratería, cooperación regional, papel internacional de la UE, robo.