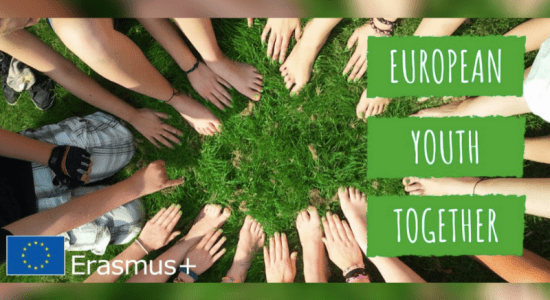 The
European Youth Together 
action targets youth organisations at grass-root level which want to establish 
partnerships across borders
, i.e. which aim at adding a European dimension to their activities and at linking these activities to EU youth policies, most notably 
the EU Youth Strategy 2019-2027
.
These networks will organise cooperation, exchanges, promote trainings (for instance for youth leaders) and allow young people themselves to set up joint projects through physical and/or online activities.
Specific Objectives
The promotion and development of more structured cooperation, online and offline, between different youth organisations to build or strengthen partnerships focusing on solidarity and inclusive democratic participation
The implementation of EU Frameworks and initiatives
To encourage young people to participate in the democratic process and in society by organising trainings, showcase commonalities among young Europeans and encourage discussion and debate on their connection to the EU, its values and democratic foundations, including by providing a meaningful voice to youth in the framework of the Covid-19 recovery process
Promote participation of under-represented groups of young people in politics, youth organisations and other civil society organisations by engaging vulnerable and socioeconomic disadvantaged youth.
New ways to empower youth organisations in dealing with the Covid-19 pandemic and its aftermath
Eligible applicants
The minimum partnership composition requirement for this call is at least 4 partners/organisations (including the applicant) from 4 different countries established in an Erasmus+ Programme Country.
– non-profit organisations (private or public) and NGOs (including European Youth NGOs) working in the field of Youth;
– public authorities (national, regional, local);
– non-profit organisations, associations and NGOs including European Youth NGOs;
Eligible activities
– Mobility activities including large scale exchanges between young people, including (but not restricted to) networking and non-formal or informal training opportunities and the development of projects by young people;
– Activities facilitating access and participation of youth in the EU policy activities relevant to young people;
– Exchanges of experience and good practice; networking and partnerships with other youth organisations; participation in meetings or seminars with other stakeholders and/or policy-makers also with a view to increasing policy impact on target groups, sectors and/or systems;
– Initiatives and events for developing European NGO/Civil Society organisations/EU-wide networks;
– Awareness-raising, information, dissemination and promotion activities (seminars, workshops, campaigns, meetings, public debates, consultations, etc.) on EU policy priorities in the field of youth;
– Activities shall be of cross-border nature and may be performed at European, national, regional or local level.
It is optional to include mobility activities in this action.
Project duration: 2 years.
Budget: This action follows a lump sum funding model. Maximum EU grant per project is 150,000 euros.
Deadline: 24 June 2021, 17.00 (Brussels time).
Find out more here.