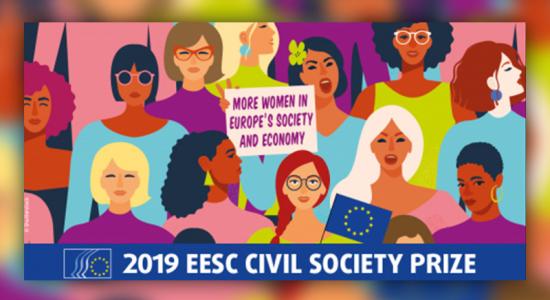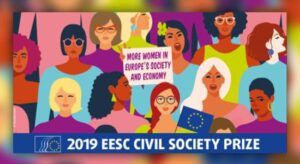 The European Economic and Social Committee rewards excellence in civil society initiatives through its annual Civil Society Prize.
The theme of the 2019 prize is: "More women in Europe's society and economy".
The prize will reward innovative initiatives carried out by civil society organisations and/or individuals on the territory of the EU which aim to raise awareness of and fight for gender equality in the EU.
Aim
The aim of the 2019 prize is to honour innovative initiatives and projects which aim to fight for equal opportunities for women and men and their equal treatment in all spheres of economic and social life.
Eligible initiatives should cover at least one of the following areas
fighting against or raising awareness of gender stereotypes, discriminatory social behaviour and prejudice in all spheres of economic and social life;
raising awareness of the consequences of gender stereotypes produced by media content;
promoting the participation of women in traditionally male-dominated occupations, such as in the STEM and ICT sectors, and combating gender segregation in education;
combating the gender pay and pension gaps;
promoting female entrepreneurship, equality in decision-making, women's economic independence and gender-life balance;
addressing the specific challenges facing vulnerable women such as single mothers, women with disabilities, migrants, ethnic minorities or low-skilled workers.
Prizes 
1st: 14.000 Euros
2nd 9.000 Euros
3rd 9.000 Euros
4th 9.000 Euros
5th 9.000 Euros
Deadline
6th September 2019, 10:00 (CEST)
The prize award ceremony will take place on 12 December 2019, in Brussels, Belgium, during the EESC plenary session.
Two representatives per winner will be invited to the ceremony, with travel and accommodation organised by the EESC.
Find out more